99 Cent Wednesday for July 13th!
Every Wednesday, I will bring you a great deal.  A boxed set for only 99 cents.  That's a quarter a book, or sometimes, less!  How can you beat that?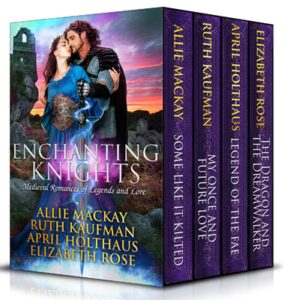 Today's deal is
Contributing Authors
Elizabeth Rose
Ruth Kaufman
Allie Mackay
April Holthaus
Blurb
Four full-length Medieval Romances of Legends and Lore…
SOME LIKE IT KILTED by Allie Mackay
Mindy Menlove lives in a castle that was transported stone by stone from Scotland to Pennsylvania. When she must sell the estate, her plans soon unravel. She's bound for the Hebrides, a place she'd hoped to avoid. Once there, she's confronted by the castle's original builder, who happens to be maddeningly irresistible and seven hundred years young.
Bran of Barra was a legendary Highland chieftain. Since his demise he's enjoyed his ghostly pleasures – until a feisty female from across the Atlantic claims that she's come to Scotland to restore his ancestral home. It's a task she hasn't accepted willingly, and if the roguish Bran doesn't change Mindy's mind about his bonnie homeland – and him – neither of them will ever find any peace. But unexpected passion can be the most powerful…
MY ONCE AND FUTURE LOVE by Ruth Kaufman
Annora of Amberton flees her castle to seek proof that she's not a lunatic as her uncle declared when claiming wardship over her and her lands.
Morgan ap Myrddin must rescue his father, Merlin, from imprisonment. But enemies have wounded him, draining his powers.
He stumbles upon her cottage and enlists her aid. As he helps her in return, undeniable desire sparks. But he won't succumb to the lure of a mortal woman as his father did. She's wary of caring for a man who refuses to discuss his past. When he finally tells her he's a Knight of the Round Table, she fears he's the lunatic as danger, secrets and destiny thwart the power of love.
LEGEND OF THE FAE by April Holthaus
The Legend begins…
After returning home from battle against a neighboring clan, Laird Galen Graham stumbles upon an injured woman in desperate need of care and protection. Discovering the lass cannot speak, wanting to return her to her family becomes a difficult task. While trying to solve the mystery behind who she is, Galen finds himself falling in love with a lass he knows nothing about.
While heading on a quest to ensure her people's victory against their enemy, Ella is led to the heart of the Highlands where she soon discovers the truth about her past that would change her life forever.
THE DRAGON AND THE DREAMWALKER by Elizabeth Rose
Drake of Dunsbard saves Brynn from being sacrificed to Dracus, the dragon of Lornoon. He is shocked to see the dragon's fire has not harmed her, and realizes she must be the Lady of Fire that the villagers fear and call a witch.
Brynn has faerie blood running through her veins, and while fire cannot harm her and gives her power, water weakens her and can destroy her. She is thrilled to have been saved by a heroic knight, until she awakes and realizes he has brought her to her late father's castle. She knows at once her savior is none other than the infamous Dragon's Son. The feared man of all, and also the man who stormed her father's castle and claimed it as his own. And while their relationship on the physical plane is rocky, Brynn has the ability to dreamwalk, leave her body in her sleep, and their relationship on the etheric plane is much different indeed.
Can two feared people work together to destroy the dragon, or will they be stopped by their haunting pasts as they realize they really fear themselves?
Authors work hard to bring you these sets.  Please don't forget to leave a review!