Lost Souls: Suspicion – Episode 5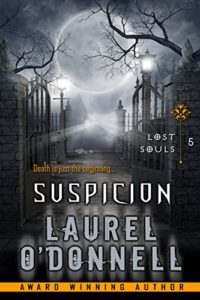 LOST SOULS
"Suspicion"
 Episode 5
"Suspicion" is the fifth episode in the exciting urban fantasy series: Lost Souls. Only $.99 cents!
Your favorite Souls are back! Sam, Ben and Christian join forces with unlikely allies to battle the newest threat to Souls and Humans, the Altered.
As the Souls try to discover who their nemesis, Scala, has possessed, Sam fights inner doubts and demons. The Souls look to Sam to lead them, but can she find the courage to save her brother and her friends from their most challenging enemy or will her suspicions doom them all?
Read Lost Souls – Suspicion to find out!
~~~
Only $.99 – Lost Souls: Suspicion Amazon Purchase Link:
~~~
Excerpt from Lost Souls – Suspicion – Episode 5
~~~
Only $.99 – Lost Souls: Suspicion Purchase Link: