Beauties with Blades series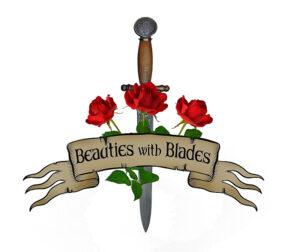 Welcome to the Beauties with Blades series page! Here you will find information about the books, links to more information and where to buy them.
The Hawkes
The Hawke sisters are far from typical women. Raised by their father the legendary John Hawke, the girls are taught how to fight with swords, how to survive in a man's world, and above all how to protect the family. They are Beauties with Blades.
Come along on their adventures as these bold and brave women save innocents, discover secrets, and fall in love.
Sage, Book 1 in the Beauties with Blades series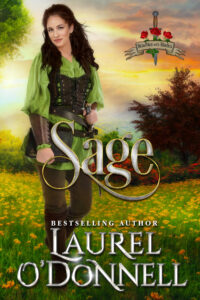 The greatest treasure for her was to read, until she fell in love
Sage Hawke feels there is more to life than training with swords. Throughout her life, she has wanted to learn to read, believing knowledge is power, but the only power her family believes in is the edge of a blade. When a mysterious book is found, a book written with a secret code, Sage's sisters turn to her for answers.
Charged by his cousin with retrieving the book, Marcus de Nogaret takes his mission seriously. When he learns the book contains a secret code, he kidnaps a woman he believes can decipher its secrets, hoping he will be well rewarded when he reveals the book's mysteries.
Each turn is fraught with danger as Sage and Marcus learn that others are after the book and will kill to possess it.
Can Sage and Marcus work together to figure out what secrets the book holds and why men are willing to kill for this book, or will they discover love is a more powerful treasure?
Raven, Book 2 in the Beauties with Blades series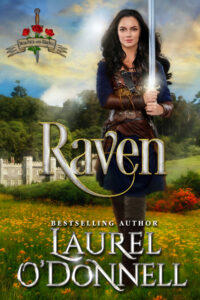 A woman bent on revenge. A man determined to keep a promise. Can love mend their tormented spirits?
Raven Hawke is separated from her sisters. When her father is killed, she is devastated and alone. The only thing she can think of doing is seeking revenge on the man who killed him. But she doesn't realize to complete her goal, she will have to give up her soul.
When his friend dies, Sir Landyn of Winchester vows to him that he will care for his daughter and make sure she is safe. He recognizes the path she is on, having felt the same need for revenge in the past. He knows she is on a deadly course that can only lead to her destruction.
Will Landyn follow her down this dark path or will his love for her be enough to heal her broken heart?
Willow, Book 3 in the Beauties with Blades series
Could she ever trust him after he broke her heart? Will he pick her over his loyalty to the Templar Knights? Can they find the love they once shared?
It is Willow Hawke's fault her sister is in peril. Charismatic and beautiful, she has always been able to get what she wants from men. All of them but one. When he returns, she wants to punish him for leaving her and lifts a book from him. But she never imagines the consequences of her action nor the adventure she will be swept up in.
Christian Sterling never found a place to fit in until he was accepted by the Warriors of the Order. Tasked by the Grandmaster with delivering a book to a Templar monk, Christian is angered when Willow steals it. With dangerous men searching for it, Christian knows he must find the book and prevent it from falling into the wrong hands.
Thrown together, they must run from bounty hunters, traitors, and mercenaries all searching for the book. The betrayal runs much deeper than they think. Can Willow and Christian trust each other enough to fall in love again?
Book 4, coming soon