Historical Romance
Historical Romance Novels by Laurel O'Donnell
Thanks for visiting!  To jump straight to a specific historical romance ebook and read more about it, just click on a book cover below.
Below you will find a more detailed listing of all the historical romance novels written by Laurel O'Donnell. Visit any of the romance books below by clicking on the romance novel covers, or the romance novel book titles, to learn more about each of the historical romance stories.  You can read excerpts, sample chapters from each romance novel, reviews, watch book trailers, and find out where you can purchase the historical romance novels.  You can also find links to all of the books by using the Historical Romance Novels drop down menu in the main menu bar above. If you would like a free eBook, then please see The Bride and the Brute listed at the bottom of this page.  If you are looking for my newest release, please visit The Hawkes.  I hope you enjoy my stories!
********
---
A decoded set of directions. A book of maps. A key. What does it all mean?
Having found their true loves, the Hawke sisters, Sage, Raven, and Willow, reunite for the adventure of a lifetime.
Fleeing from King Philip as he arrests and persecutes the Templar Knights in his unending pursuit of their treasure, the group struggle to unravel a secret puzzle.
Sage has broken the code and deciphered a book. But where do the directions start and where do they end?
Willow was given a book of maps. What is she to do with the book? Where is she supposed to go? And why?
Raven has a key from her father. What does it unlock?
As the group struggles to answer the questions, they are trailed by nefarious men intent on claiming the deciphered directions. Together, they must overcome obstacles, outwit their pursuers, and use their skills to find their reward. Will the end be worth the risks, or will they discover that love is the greatest treasure?
Raven Purchase Links:
The Hawkes is also available in trade paperback
---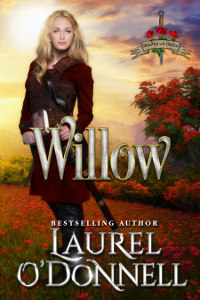 Could she ever trust him after he broke her heart? Will he pick her over his loyalty to the Templar Knights? Can they find the love they once shared?
It is Willow Hawke's fault her sister is in peril. Charismatic and beautiful, she has always been able to get what she wants from men. All of them but one. When he returns, she wants to punish him for leaving her and lifts a book from him. But she never imagines the consequences of her action nor the adventure she will be swept up in.
Ridiculed by his father, mocked by his brother, Christian Sterling searches for a family to belong to. He believes he found it in the Templar Knights. Tasked by the Grandmaster with delivering a book to a monk, Christian is angered when Willow steals it. With dangerous men searching for it, Christian knows he must find the book and prevent it from falling into the wrong hands.
Thrown together, they must run from bounty hunters, traitors, and mercenaries all searching for the book. The betrayal runs much deeper than they think. Can Willow and Christian trust each other enough to fall in love again?
Willow Purchase Links:
Willow is also available in trade paperback
---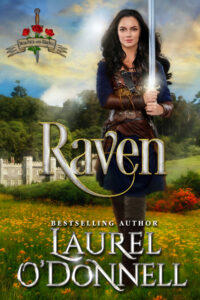 A woman bent on revenge. A man determined to keep a promise. Can love mend their tormented spirits?
Raven Hawke is separated from her sisters. When her father is killed, she is devastated and alone. The only thing she can think of doing is seeking revenge on the man who killed him. But she doesn't realize to complete her goal, she will have to give up her soul.
When his friend dies, Sir Landyn of Winchester vows to him that he will care for his daughter and make sure she is safe. He recognizes the path she is on, having felt the same need for revenge in the past. He knows she is on a deadly course that can only lead to her destruction.
Will Landyn follow her down this dark path or will his love for her be enough to heal her broken heart?
Raven Purchase Links:
Raven is also available in trade paperback
---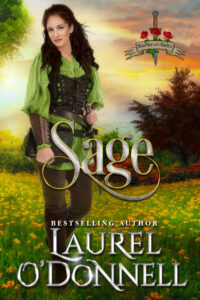 The greatest treasure for her was to read, until she fell in love
Sage Hawke feels there is more to life than training with swords. Throughout her life, she has wanted to learn to read, believing knowledge is power, but the only power her family believes in is the edge of a blade. When a mysterious book is found, a book written with a secret code, Sage's sisters turn to her for answers.
Charged by his cousin with retrieving the book, Marcus de Nogaret takes his mission seriously. When he learns the book contains a secret code, he kidnaps a woman he believes can decipher its secrets, hoping he will be well rewarded when he reveals the book's mysteries.
Each turn is fraught with danger as Sage and Marcus learn that others are after the book and will kill to possess it.
Can Sage and Marcus work together to figure out what secrets the book holds and why men are willing to kill for this book, or will they discover love is a more powerful treasure?
Sage Purchase Links:
Sage is also available in trade paperback
---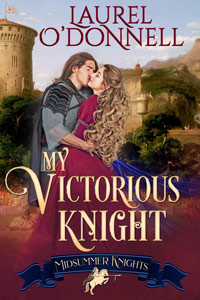 A Midsummer Knights Romance: A Tournament World of Chivalry, Intrigue, and Passion
Book 5 A Midsummer Knights Romance series. Book 2 in the My Knight series
She desired only one kiss, but what she received was so much more!
Having grown up under his father's constant ridicule, Sir Julian of Helmsley is determined to be the best knight in the land. When he finally saves enough coin to enter a grand tournament and face the undefeated champion, he is confident he will win and prove to all, including his father, he is not worthless.
Lady Elora of Kingston knows her place, her duty. She is destined to marry a man she hardly knows and certainly does not love. Before she weds, Elora wants to experience real passion. Just one kiss. One magical kiss. What she doesn't realize is that one kiss will change her life forever.
When Julian meets Lady Elora, the sister of the undefeated champion, he becomes embroiled in two battles, one for his personal glory and one for his heart, with the outcomes of both very much in peril.
My Victorious Knight Purchase Links:
My Victorious Knight is also available in trade paperback
---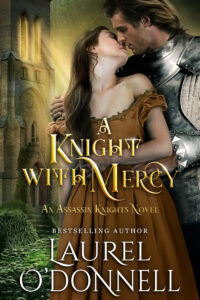 Mercy Brooker has lost so much. Her husband died two years ago and she has taken his place as the town's healer. She has raised her beloved son by herself. Now, he turns five summers in just a few weeks and this strikes terror in her heart. One by one at the age of five, the boys of the village are taken from their families by the church to work for God, never to be seen again. Mercy will do anything to protect her child.
Sir Richard le Breton is attacked by a group of townsmen but is saved by an angel. Battered and bruised, he cannot remember his past and is desperate to learn why he was set upon. As the time passes, he finds himself drawn to the woman caring for him. When she asks him to save her and her son, how can he refuse?
Will the dark deeds of Richard's past doom their growing love? Can they work together and save the innocent boy?
A Knight With Mercy Purchase Links:
A Knight with Mercy is also available in trade paperback
---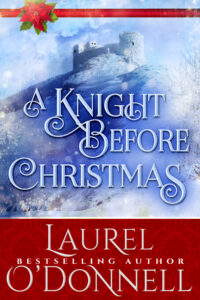 Blamed by her father for her twin sister's death on Christmas Eve, Lady Eve Chandos agrees to marry a man she does not love to please him and appease his years of wrath. Betrayed by his brother at an early age, Sir Gabriel Bedford decides it is time to make amends and attends his brother's marriage, but he is unprepared for the beauty Lady Eve has grown into and the attraction that quickly sparks between them. As Christmas approaches, can Eve and Gabriel find the happiness they seek, or will the secrets of their past doom them to remain apart forever?
A Knight Before Christmas Purchase Links:
---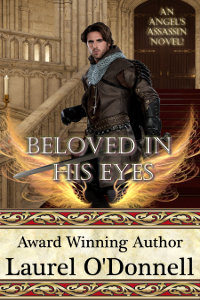 Having grown up as a slave, Gawyn is finally free to live the life he wants. As captain of the guard, he serves his brother, Lord Damien, faithfully and loyally. There is nothing he would not do for him or for the city of Acquitaine. When Damien becomes suspicious of a farm girl, he sends Gawyn to discover what she knows about their past, a past that must remain secret.
Justina Auber is a farm girl, raised by a father who was killed by an assassin. She never expects to come face to face with her father's killer. Now, she must protect her younger brother from the very man who took her father from her.
When Gawyn meets Justina, he is instantly attracted to her wit and beauty. As he attempts to find out what she knows about his family's dark past, he finds himself falling for her. Will his loyalty to his brother demand Justina's death or will Gawyn betray his brother to save the woman he is falling in love with?
Beloved in His Eyes Purchase Links:
Beloved in His Eyes is also available in trade paperback
---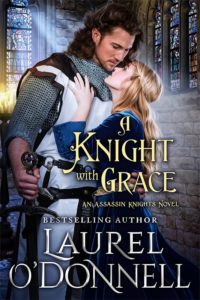 Lady Grace Willoughby defies her father's orders to marry Sir William de Tracy and escapes with a friend. She has no intention of wedding a cursed man, a man ostracized from the church, a man who would only doom any future children they might have to the fires of Hell. She prays for a knight to rescue her.
Excommunicated and outcast for a horrible crime in his past, Sir William de Tracy searches for forgiveness. Marriage has never crossed his mind until Lord Willoughby commissions him to retrieve his fleeing daughter and honor the dying wish of his father by marrying Grace.
But things are not as they seem. And when an assassin tries to kill Grace, William must choose between his soul and the woman he has come to love. Can William and Grace overcome their past and find the redemption and love both are so desperately seeking?
A Knight with Grace Purchase Links:
A Knight with Grace is also available in trade paperback
---
Layne Fletcher, the only girl in a family of three boys, has grown up learning to use a sword and joust, but she is not a knight. She and her brothers have been traveling from tourney to tourney to make enough coin to buy their own farm to shelter their ailing father. When her brother is found unconscious before an important tournament, Layne takes his place on the jousting field against…
Griffin Wolfe, the undefeated jousting champion. When he is unhorsed by a slip of a woman who is not a knight, he demands retribution. His honor will not allow him to let a woman be thrown in the dungeon and he has no choice but to pay her fine, ordering her to travel with him until her brothers can repay him. Griffin attempts to educate Layne in the art of being a woman, but finds he is attracted to her exciting personality and uncommon beauty despite her less than lady like ways.
But someone is trying to sabotage Griffin as he competes in the tournaments. Can Layne and Griffin discover who the culprit is while keeping their families safe and their growing attraction secret?
My Noble Knight Purchase Links:
My Noble Knight is also available in trade paperback
---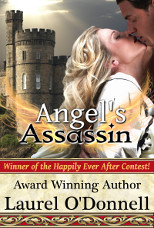 Damien is an assassin, a man with no home and a tortured past. Sold into slavery as a young boy, he is trained to kill with cold calculation, without remorse. Lady Aurora of Acquitaine is the epitome of purity and goodness, beloved by all her people. When Damien enters Aurora's life, tempting her with promises of dark passion and forbidden lust, he threatens to tear her peaceful world apart.
Angel's Assassin Purchase Links:
Angel's Assassin is also available in trade paperback
---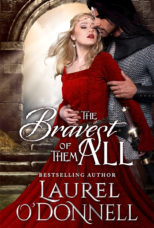 The Bravest of them All is a medieval romance novella.
All her life, NESSA has idolized her older sister, Melwyn, following in her footsteps, doing what she did. When Nessa falls in love with her sister's betrothed, she is willing to sacrifice her own feelings to ensure Melwyn's happiness.
LUKE OF BRACKLEY has vowed to protect the innocent, including his lord's daughters. Betrothed to Melwyn, Luke always believed his future lay in her arms. When he discovers Nessa has been kidnapped by an enemy, he risks everything to save her.
Will Nessa be able to keep her love for Luke a secret even as her heart breaks?
The Bravest of Them All Purchase Link:
---
This is a short story that continues the story of Damien and Aurora from ANGEL'S ASSASSIN.
The honored Lady of Acquitaine prepares for her upcoming marriage. Her Betrothed battles the unwanted visitors that have come for more than just celebration. Will his past catch up to him and ruin all he has fought so hard to protect?
Cherished Protector of Her Heart Purchase Links:
Cherished Protector of Her Heart is also available in trade paperback
---

In this exciting medieval historical romance, the French lady knight known as the Angel of Death wages a battle of wills and desires against her dreaded enemy — the English warrior known as the Prince of Darkness.  An epic medieval historical romance.
Nominated for the Romance Writers of America Golden Heart Award
The Angel and the Prince Purchase Links:
The Angel and the Prince is also available in trade paperback
---

Fox Mercer watches in horror as his father's knighthood, lands and nobility are all torn from him.  Banished into disgrace, Fox waits for the moment to strike to avenge his family's honor.  And that moment arises when a tournament is announced — a battle of champions wherein the winner gets to claim a very lovely prize.  A medieval historical romance with an exciting tournament, a haunted castle and a passionate love story.
Champion of the Heart Purchase Links
Available on Amazon, B&N, Apple, and Kobo!
---

Taylor Sullivan is a raven-haired hellion fleeing the flames that destroyed her family. She arms herself with a quick sword and a sharp tongue, hiring herself out as a mercenary, willing to do whatever it takes to survive. Slane Donovan is a knight of honor, sworn to uphold his oath and his word. He seeks the woman who wears the Sullivan ring, determined to bring her back to Castle Donovan.  A fast paced medieval historical romance filled with action.  Winner of the Holt Medallion Award for Best Medieval Novel
A Knight of Honor Purchase Links:
---

A mysterious falconer infiltrates Castle Fulton, intent on reclaiming what is rightfully his.  When the handsome stranger lays eyes and hands on Lady Solace Farindale, all of his plans start to crumble around him.  A medieval historical romance novel centered around the siege of a castle and the intrigue and betrayal that surround it.
The Lady and the Falconer Purchase Links:
The Lady and the Falconer is also available in trade paperback 
---
Disguised as the legendary hero known as the Midnight Shadow, Lady Bria Delaney swears to rid the land of Lord Terran Knowles' cruel tyranny.  She is stunned to encounter him in her father's castle — one of the many suitors vying for her hand. Captivated by his darkly intent gaze, Bria struggles to suppress her fierce attraction to the very enemy she has secretly promised to destroy.  A Robin-Hood style medieval historical romance with a twist.
Midnight Shadow Purchase Links:
---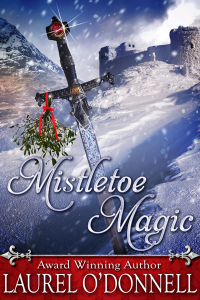 Mistletoe Magic is a medieval romance novella.
A confident knight arrives home to find his childhood friend grown into much more than he remembered. The lady of the castle keeps a dangerous secret that threatens all she holds dear. Will Mistletoe Magic save them?
Mistletoe Magic Purchase Links:
---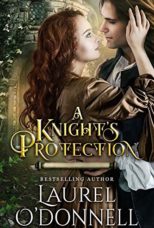 A fabulous treasure. A kind healer. A troubled lord. Together, can they prevent the Templar treasure from falling into the wrong hands?
This story is a novella.
A healer and outcast, Lia discovers a dying Templar knight who entrusts her with an important treasure and elicits her promise to protect it.
Kade de Claremont returns home upon news of his mother's death only to find his father is searching for a mythical treasure.
Lia and Kade must join together to keep the treasure from his father, but secrets and trust come between them to sabotage their growing attraction.
A Knight's Protection Purchase Links:
Available on Amazon, B&N, Apple, and Kobo!
A Knight's Protection is also available in trade paperback 
---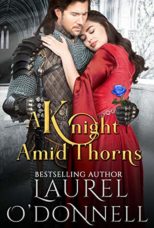 "He who dares not grasp the thorn should never crave the rose." – Anne Bronte
The blooming of the rare and mysterious blue rose heralds great change, for when the buds open to full blossom enemies become lovers. Some fear this omen, some desire it. All respect it. Discover the power–and the promise–of the blue rose for yourself.
When the murderer of her brother is welcomed into her castle as a friend, Lady Ella Rames vows to make his life as miserable as hers and to avenge her brother. Struggling to fulfill an oath and find the elusive blue rose, Sir Graden Dumount's final hope rests with a woman who despises him. Can Ella and Graden overcome their animosity and let the power of the blue rose heal them and turn enemies into lovers?
A Knight Amid Thorns Purchase Links:
---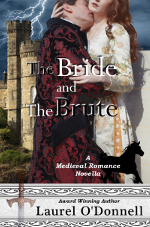 A medieval romance novella. This free eBook also contains excerpts and free sample chapters from the romance novels listed above.
Jayce Cullen has been fighting her fear of thunder and lightning ever since she was a child, but nothing could have prepared her for the fury of her new husband.  Feeling deceived and betrayed into a loveless marriage, Lord Reese Harrington wants nothing to do with his new wife.  Trapped in a marriage with no escape, the beautiful young bride must battle the demons of her husband's past and hope that she can weather the storm his brutish behavior unleashes.
The Bride and the Brute is FREE on Smashwords, iBooks, B&N, and Kobo for a limited time!

The Bride and the Brute is also available on Amazon for Free!