Midsummer Knights

One thrilling tournament. Seven unique stories of love! Read them all!
MIDSUMMER KNIGHTS
Summer, 1193. England is in turmoil, and a great tournament is scheduled near the border of Scotland and England. The greatest knights and lords from England, Scotland, Ireland, and France have gathered to compete for a great prize. There will be celebrations, jousts, and feasting. It will be an exhibition of chivalry and warrior skills, a breeding ground for treason…and for love.
Available Now!
Forbidden Warrior by Kris Kennedy – Book 1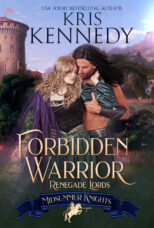 An Irish warrior takes an arrogant heiress captive to ensure a debt is paid. What could possibly go wrong?
Irish warrior Máel has come to a grand tournament to collect a past due payment from a noble lord. When the scheming baron has no interest in paying, Máel takes the one thing the man holds dear: his beautiful, arrogant daughter, Cassia.
Lady Cassia d'Argent has no time for warriors.
Heiress to a barony, she knows her value: a pawn. She intends to make the most of it. Her wily father plans to wed her off to the highest bidder at the tournament, and Cassia will finally achieve her dream: a chivalrous knight in glittering armor to honor and esteem her.
Only Máel is nothing like her dreams. He is bold, outspoken, has furs on his bed, and awakens a desire inside her more dangerous than a thousand swords.
What if this man becomes the dream she never dared to dream?
What if her father never pays the debt?
Worse…what if he does?
Can she rely on an outlaw to be more chivalrous than a knight?
If you like adventure and enemies to lovers romance, you'll love this romance because it has sexy banter, forbidden passion, and the romance of a lifetime.
Purchase here –
***
Available Now!
The Highlander's Lady Knight by Madeline Martin – Book 2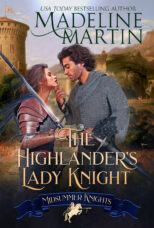 She wants to save her honor
Lady Isolde Maxwell's brother is more inclined to marry her off rather than defend her honor, leaving her to take matters into her own gauntlets. After stealing his armor, she heads to the Rose Citadel tournament to fight for her freedom from a man she never agreed to wed. Yet, even as Isolde is trying to escape one man, another has set his sights on her, one who is determined to catch her attention and one she cannot help but crave.
He wants to save his people
When yet another failed harvest threatens the welfare of his clan, Cormac Sutherland, Chieftain of the Sutherland clan needs a solution to save his people. When his twin brother proposes they attend a tournament in England and steal the betrothed noblewomen from men of their rival clan, Cormac is skeptical, especially given his lacking skills at wooing. However, once he gets to know Lady Isolde, he finds she not only earns his respect, but also stokes his passion.
Can their love do both?
When intrigue and betrayal come into play and a challenge threatens one's greatest love, can Cormac and Isolde survive the tournament with their hearts and lives intact?
Purchase here –
***
Available Now!
The Highlander's Dare by Eliza Knight – Book 3
When a simple dare leads to the most enduring love…
Lady Clara de Montfort is begrudgingly attending the tournament her uncle is hosting at the behest of her parents in order to meet the Scottish warrior—Aaron Ross—they've forcefully betrothed her to. But Clara has a plan—she's got one week to change the Scotsman's mind and free herself from an unwanted marriage.
Graham Sutherland is accompanying his twin brother, the new Chieftain of their clan, to a tournament across the border of Scotland in England. After a failed harvest has threatened the livelihood of their clan, they've come up with a perfect solution. The twin brothers will steal the wealthy English brides of their rival clan Ross who will be in attendance thus bringing a bounty to their people.
When Clara and Graham meet at the feast, he's all too happy to help her break her betrothal, for she's the one he's come to steal. Unbeknownst to Clara, the advice he's asking for how to win a bride is all about her. Daring each other to fall in opposite directions, they may just fall right into each other's arms.
Purchase here –
***
Available Now!
The Highland Knight's Revenge by Lori Ann Bailey – Book 4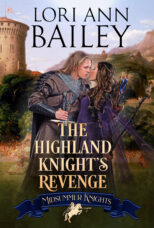 A Scottish warrior wronged…
Sir Giric de Beaumont MacDonald arrives on English soil to exact revenge against the man who murdered his father. When Giric discovers his foe's son is at the tournament in his place, the Scottish knight hatches a plan to defeat the man in combat and demand his enemy's life as ransom.
An English woman on the verge of attaining freedom…
Jennet Linton desires one thing… independence. After years of captivity with her uncle, then being held hostage by duty to family and her father's declining mental state, Jennet is on the verge of finding all she's dreamed of in the arms of a man of her choosing, her Scottish knight.
When Giric takes Jennet's brother captive, will their newfound love be enough to forgive old grievances and can Jennet live with a man who has spent the last eleven years devising a way to destroy what she has spent a lifetime protecting?
Purchase here –
***
Available Now!
My Victorious Knight by Laurel O'Donnell – Book 5
She desired only one kiss, but what she received was so much more!
Having grown up under his father's constant ridicule, Sir Julian of Helmsley is determined to be the best knight in the land. When he finally saves enough coin to enter a grand tournament and face the undefeated champion, he is confident he will win and prove to all, including his father, he is not worthless.
Lady Elora of Kingston knows her place, her duty. She is destined to marry a man she hardly knows and certainly does not love. Before she weds, Elora wants to experience real passion. Just one kiss. One magical kiss. What she doesn't realize is that one kiss will change her life forever.
When Julian meets Lady Elora, the sister of the undefeated champion, he becomes embroiled in two battles, one for his personal glory and one for his heart, with the outcomes of both very much in peril.
Purchase here –
***
June 23
An Outlaw's Honor by Terri Brisbin – Book 6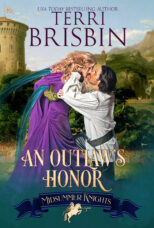 Thomas Brisbois of Kelso has only one goal when he arrives at the tournament–to defeat the only knight who ever bested him in battle. If he succeeds, the Scottish king will return to him his lands, his honor and his life. He has little interest in other prizes, and even less when he learns that the lord for whom his rival fights has included a daughter among the spoils at stake in their contest– a lovely daughter with no desire to play the pawn, or to see her father's champion win. She is a distraction, all the more after she explains her own ideas about which knight shall have her, and how and when.
Annora may be a pawn in her father's plans but she has no intention of letting that happen without a fight of her own. When she sees the frank desire in Thomas' gaze for her, she makes her own offer—she'll help him win if he'll let her go. . . after he beds her. Her plans go awry when she discovers the truth of the man beneath the armor. The man who had lost everything and struggles to regain his life.
When the only man she can trust is known for his dishonorable past, what could go wrong?
Purchase here –
***
July 7
Never If Not Now by Madeline Hunter – Book 7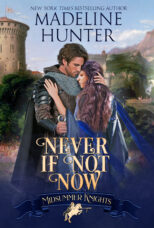 They call him the Devil's Blade and say that the fires of hell burn in him when he wields his sword.
It might be midsummer when Zander arrives at the tournament, but there is winter in his soul. Battle hardened and war weary, he intends to amass spoils, win the champion's prize, and find a wealthy wife. Then he discovers that Elinor of York has accompanied her father to the tourney. He desired her as a youth, and soon learns that he still does. But whatever he will ever have of her will have to be seized in secret, before the tournament ends.
Elinor was born a lady but the last years have impoverished her. She now sews for coin, and takes care of her lame, aging father, a knight who blames Zander for his diminished fortunes and health. She should ignore the handsome knight whom she teased when they were young, but his magnetism draws her closer. He is not for her —- he is her father's enemy and she has no dowry. Yet he evokes sweet memories and deep emotions and a heart-wrenching dilemma– Can she keep her father from issuing the challenge that will leave one of the men she loves dead?
Purchase here –