Sage: Beauties with Blades – Book 1
Sage, Book 1 in the Beauties with Blades series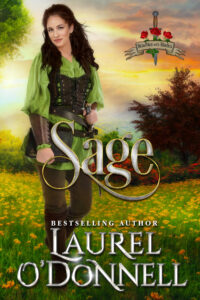 The greatest treasure for her was to read, until she fell in love
Sage Hawke feels there is more to life than training with swords. Throughout her life, she has wanted to learn to read, believing knowledge is power, but the only power her family believes in is the edge of a blade. When a mysterious book is found, a book written with a secret code, Sage's sisters turn to her for answers.
Charged by his cousin with retrieving the book, Marcus de Nogaret takes his mission seriously. When he learns the book contains a secret code, he kidnaps a woman he believes can decipher its secrets, hoping he will be well rewarded when he reveals the book's mysteries.
Each turn is fraught with danger as Sage and Marcus learn that others are after the book and will kill to possess it.
Can Sage and Marcus work together to figure out what secrets the book holds and why men are willing to kill for this book, or will they discover love is a more powerful treasure?
Reviews –
"Laurel O'Donnell's "Sage: Medieval Romance" is an excellent start to the "Beauties With Blades" series. This is a wonderful way to start a series." – Daisy (Amazon Review)
"I really enjoy how the book grabs you right from the start and takes you on an heart-stopping journey that holds your full attention to the very end and Sage does just that!" – Amazon Review
Buy links –