Novellas
Novellas by Laurel O'Donnell
Thanks for visiting!  To jump straight to a specific novella and read more about it, just click on a book cover below.
Below you will find a more detailed listing of all the novellas written by Laurel O'Donnell. Visit any of the romance books below by clicking on the romance novel covers, or the romance novel book titles, to learn more about each of the novellas.  You can read excerpts, sample chapters from each romance novel, reviews, watch book trailers, and find out where you can purchase the novellas.  You can also find links to all of the books by using the Novella drop down menu in the main menu bar above. I hope you enjoy my stories!
********
---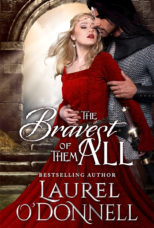 The Bravest of them All is a medieval romance novella.
All her life, NESSA has idolized her older sister, Melwyn, following in her footsteps, doing what she did. When Nessa falls in love with her sister's betrothed, she is willing to sacrifice her own feelings to ensure Melwyn's happiness.
LUKE OF BRACKLEY has vowed to protect the innocent, including his lord's daughters. Betrothed to Melwyn, Luke always believed his future lay in her arms. When he discovers Nessa has been kidnapped by an enemy, he risks everything to save her.
Will Nessa be able to keep her love for Luke a secret even as her heart breaks?
The Bravest of Them All Purchase Link:
---
This is a short story that continues the story of Damien and Aurora from ANGEL'S ASSASSIN.
The honored Lady of Acquitaine prepares for her upcoming marriage. Her Betrothed battles the unwanted visitors that have come for more than just celebration. Will his past catch up to him and ruin all he has fought so hard to protect?
Cherished Protector of Her Heart Purchase Links:
---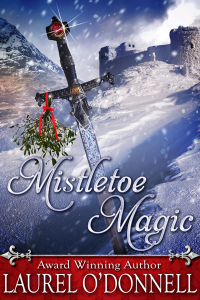 Mistletoe Magic is a medieval romance novella.
A confident knight arrives home to find his childhood friend grown into much more than he remembered. The lady of the castle keeps a dangerous secret that threatens all she holds dear. Will Mistletoe Magic save them?
Mistletoe Magic Purchase Links:
---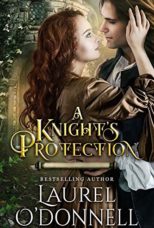 A healer and outcast, Lia discovers a dying Templar knight who entrusts her with an important treasure and elicits her promise to protect it. Kade de Claremont returns home upon news of his mother's death only to find his father is searching for a mythical treasure. Lia and Kade must join together to keep the treasure from his father, but secrets and trust come between them to sabotage their growing attraction.
A Knight's Protection Purchase Links:
Available on Amazon, B&N, Apple, and Kobo!
---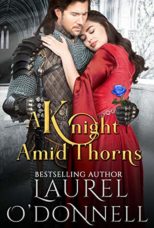 When the murderer of her brother is welcomed into her castle as a friend, Lady Ella Rames vows to make his life as miserable as hers and to avenge her brother. Struggling to fulfill an oath and find the elusive blue rose, Sir Graden Dumount's final hope rests with a woman who despises him. Can Ella and Graden overcome their animosity and let the power of the blue rose heal them and turn enemies into lovers?
A Knight Amid Thorns Purchase Link:
---
Blamed by her father for her twin sister's death on Christmas Eve, Lady Eve Chandos agrees to marry a man she does not love to please him and appease his years of wrath. Betrayed by his brother at an early age, Sir Gabriel Bedford decides it is time to make amends and attends his brother's marriage, but he is unprepared for the beauty Lady Eve has grown into and the attraction that quickly sparks between them. As Christmas approaches, can Eve and Gabriel find the happiness they seek, or will the secrets of their past doom them to remain apart forever?
A Knight Before Christmas Purchase Link:
---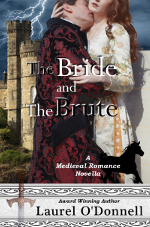 A medieval romance novella. This free eBook also contains excerpts and free sample chapters from the romance novels listed above.
Jayce Cullen has been fighting her fear of thunder and lightning ever since she was a child, but nothing could have prepared her for the fury of her new husband.  Feeling deceived and betrayed into a loveless marriage, Lord Reese Harrington wants nothing to do with his new wife.  Trapped in a marriage with no escape, the beautiful young bride must battle the demons of her husband's past and hope that she can weather the storm his brutish behavior unleashes.
The Bride and the Brute is FREE on Smashwords, iBooks, B&N, and Kobo!

The Bride and the Brute is now also available on Amazon for Free!