Angel's Assassin – A Medieval Romance by Laurel O'Donnell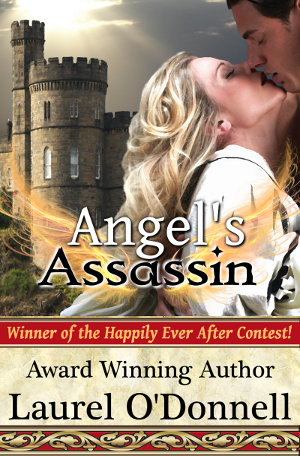 "A great Medieval romance! Something I appreciated was the manner of Ms. O'Donnell's writing. It flows with just enough descriptions, and conversations to keep you easily focused. Another thing that I thoroughly liked was that even though this book focuses on Damien and Aurora, there are other characters mixed into the book- both evil/innocent- that give the plot an edge and make you want to know what exactly is being hidden from everyone! I like a good amount of mystery. It makes me all the more anxious to click on to the next page!!!  Angel's Assassin is a great read. Very well done, Ms. O'Donnell!!"
– The Indie Bookshelf
Winner of the Happily Ever After Contest!
Damien is an assassin, a man with no home and a tortured past.  Sold into slavery as a young boy, he is trained to kill with cold calculation, without remorse.  As a reward for his ruthless success, he is given a chance to earn his freedom from his cruel master.  One last mission.  One final person to slay…
Lady Aurora of Acquitaine is the epitome of purity and goodness, beloved by all her people.  She lives her life trying to atone for her mother's cruelty by being a fair and just ruler.  Secretly she fears that one day her mother's murderer will return for her.
When Damien enters Aurora's life, tempting her with promises of dark passion and forbidden lust, he threatens to tear her peaceful world apart with shadowy secrets of his own.
Can Aurora's light heal Damien's dark spirit or will his evil consume her?  The eternal battle of good versus evil, love versus hate, dark versus light, all come to a shattering climax in this historical romance set in medieval England.

Angel's Assassin Purchase Links – $3.99


Kindle
 Angel's Assassin also available in trade paperback – $9.95

Read an Excerpt from Angel's Assassin
Read Free Sample Chapters from Angel's Assassin
Watch a Book Trailer for Angel's Assassin
Read the Angel's Assassin Interviews!
Reviews for Angel's Assassin

10 stars if I could give that many. This is by far my favorite book by this author.
"I loved all the character's, even the secondary character's are rich. The sorrow you feel for Damien just makes you ache."
– Barnes and Noble Review 

A great Medieval romance! July 5, 2012
"Everyone loves a good medieval romance! And it's been awhile since I've read my last one. Seriously. I think it's been about 2 years!! So I was very excited to read Angel's Assassin, to say the least.  In order to gain his freedom, Damien, an assassin has one more task to complete, to kill the lovely, Lady Aurora. He's ruthless, cold hearted, and has no interest in his next victim.  Until he discovers that Aurora is more than just another mission. She has a passionate heart that sees the good in everyone, including Damien. He has four days to finish his task. And Damien has to decide which one is more invaluable: his freedom or Aurora's life.
Something I appreciated was the manner of Ms. O'Donnell's writing. It flows with just enough descriptions, and conversations to keep you easily focused.
Damien- What I enjoyed about him so much was he wasn't a brooding hero. He WANTS someone to love to him. His past has left many scars on his emotions, but it's so apparent to see that he doesn't want to be the person he is. He desperately wants a way out!
Aurora- Has a very compassionate heart that wants to help everyone out. She is a beautiful person, and to everyone around her it's easy to see that the beauty is also inward too.
I felt like both of them together was a good match. Their both trying so hard not to be what everyone expects. Both of them have hidden secrets that no one knows, and the two of them are scared to find out what the other would think if those secrets were revealed!
Another thing that I thoroughly liked was that even though this book focuses on Damien and Aurora. There are other characters mixed into the book- both evil/innocent- that give the plot an edge and make you want to know what exactly is being hidden from everyone! I like a good amount of mystery. It makes me all the more anxious to click on to the next page!!!
Angel's Assassin is a great read. Very well done, Ms. O'Donnell!!"
– Amazon Review (originally posted on The Indie Bookshelf)

"I really enjoyed reading this book.  Laurel did an excellent job of keeping the reader intrigued.   I was rooting for Damien to have a change of heart.  I thought this book was well written and would recommend it very highly, 4 stars."
 – Mrs. Mommy Booknerds (read the full review)

"This book is GREAT!!!! I've read all her books, and each one I read never seems to bore me!! A work of art!"
– iBooks Review 

"I really enjoyed reading this book. I am not normally a huge fan of historical romances, but I really liked this book. Damien is an assassin hired to kill Lady Aurora, by doing so he will be granted his freedom. Fate has a different path for Damien; he actually saves Aurora from another assassin and in turn becomes her body guard. Lady Aurora sees the good in Damien and helps him to recognize that he has a choice in life. In the end goodness prevails over evil. Laurel did an excellent job of keeping the reader intrigued. I was rooting for Damien to have a change of heart. I thought this book was well written and would recommend it very highly, 4 stars."
– B&N Review 

"This book is a page turner. As the story went, each chapter held me with curiosity of what would happen next and kept wondering. It got me hooked until the end. Oh how I loved this book."
– Goodreads Review 

"loved it. Great hero and wonderful mystery."
– Goodreads Review 

"Angel's Assassin is a wonderful page-turner romance. Make sure you have enough time to finish it because you will not be putting it down. Two thumbs up for Ms. O'Donnell and Angel's Assassin."
– Goodreads Review

Amazing Historical Romance "I loved this book. Angel's Assassin is how Historical Romance is supposed to be. There were equal parts romance and plot and O'Donnell weaves them together masterfully."
 – Amazon Review
Rating: 4.5/5  "I love a good romance! I also love historical romance, so this was definitely a win/win when I read the synopsis. And Laurel O'Donnell writing will leave you hot and bothered! Although the hotness of this romance doesn't start until a good halfway through the book. Sadly I was way too engrossed to check the percentage when the two main characters started kissing!
Damien is definitely a rogue. But I think any woman would be ready to try him on for size. This guy is H O T ! Everything about him will leave you wanting this guy to be real. And everything he does fits so well with his persona. Laurel did a great job describing the why behind him so you aren't left with any questions regarding his actions, ever. And his actions are, shall I say… interesting for an assassin!
Aurora is also a very intriguing person. Her mother and father really had a hand in helping her become who she is. It isn't all set out, of course, you find out slowly but surely, who she is, why she is who she is and the best part about her is, she is definitely not a spoiled little rich girl!
This plot was great. A bit of mystery throughout the entire thing which kept me wanting to know exactly what was going on and who in the world was the culprit!!? Although you do find out a bit you're not sure until the end and it ends fabulously! And that cover…
Lovely romance, beautiful setting! Fabulous characters. This is definitely one I will recommend to everyone.
– My Seryniti Book Reviews

Angel's Assassin by Laurel O'Donnell is set in medieval times. It stays true to the times with its chivalry and pure love and arranged marriages. Aurora is perfect, almost too good to be true. Damien was sold into slavery by his father and has known nothing but hardship and violence. He was later sold again to a master who trained him as an assassin. They are the good/evil, black/white, dark/light contrast. Everything for Damien is dark and cruel. Except for her mother's death, Aurora has had every advantage a well-born lady is due. Aurora went out of her way not to be the type of woman her mother was—hated and despised. Aurora is shocked that someone wants her dead. No matter how much Damien wants his freedom in exchange for Aurora's death, he is unable to do it. Her light and goodness overwhelms him with the thought that maybe, just maybe, he can be the man Aurora sees.
Mystery abounds as to who wants her dead. There are many who have good-to-them reasons but are selfish and egotistic reasons. Angel's Assassin has a strong cast of secondary characters. We learn of Aurora's and Damien's pasts through the secondary characters. Even without Aurora's mother alive, her spirit is there as Aurora tries to make the villagers forget their past with her mother. Laurel O'Donnell gives a spark to her characters so that I felt I knew these people—loved or hated them.
Angel's Assassin is a great read. It brings back the time of knights, their ladies, and a time of chivalry. It's definitely a keeper.
– Two Lips Reviews
 Angel's Assassin Purchase Links – Angel's Assassin Purchase Links – $3.99


Kindle
 Angel's Assassin also available in trade paperback – $9.95