99 Cent Wednesday! Lords Seldom Play Fair
Every Wednesday, I will bring you a great deal.  A boxed set for only 99 cents.  That's a quarter a book, or sometimes, less!  How can you beat that?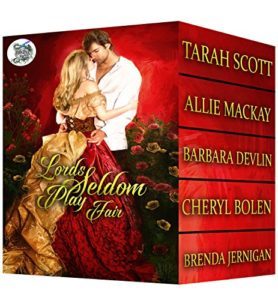 Today's deal is
Contributing Authors
Allie MacKay
Tarah Scott
Barbara Devlin
Cheryl Bolen
Brenda Jernigan
Blurb
From New York Times, USA Today and Bestselling Authors, five full length historical romances.
CLAIMED by Tarah Scott
Talbot expects to find a hostile woman in the Scottish heiress Edward commands him to marry. Instead, he discovers a Highland beauty worthy of a man's respect…and love. Talbot will do anything to win her acceptance–except the one thing she demands: betray his king and embrace his Scottish heritage.
HIGHLANDER IN HER DREAMS by Allie Mackay
Live the ancient magic of Scotland. HIGHLANDER IN HER DREAMS!
After stepping through a magical gateway, Kira Bedwell finds herself in fourteenth century Scotland, face-to-face with Aidan MacDonald, the irresistible Highlander who has visited her in dreams. Now that their romance transcends dreams to reality, they find themselves under attack by Aidan's enemies. It will take all of their courage and will for their love to survive beyond time itself…
DEMETRIUS by Barbara Devlin
Demetrius de Blackbourne is a Nautionnier Knight, a pious man, and a virgin who, much like his bride, has vowed to devote himself to divine endeavors, and his plans do not include a wife. When he is tasked with settling a troublesome region, and installing the King's new garrison, he neglects the most important charge of all–his lady. But the gentle spirit and quiet strength of Athelyna manifest a temptation he can neither ignore nor deny, and Demetrius finds himself fighting for the one thing he never thought he would want–her heart.
HIS LORDSHIP'S VOW by Cheryl Bolen
Bereft of beauty as well as fortune, the exceedingly plain Miss Jane Featherstone has failed to attract any suitor during her three Seasons. Rather than be a burden to her brother and his obnoxious wife, Miss Featherstone vows to accept the first man who asks–even though she's always worshipped a lord who's far above her touch. . .
Lord Slade must marry an heiress in order to honor the deathbed vow he made to his father, and he needs Miss Featherstone's help in wooing her beautiful cousin. After her initial anger, Miss Featherstone agrees to his scheme, telling him she's doing so because she admires his Parliamentary record of humanitarian legislation and his reverence for truth. But the more he's with the two cousins, the more attracted he becomes to Miss Featherstone. What's a man
CHRISTMAS IN CAMELOT by Brenda Jernigan
The Greatest Gifts . . . Are Always Unexpected …
Sir Nicholas the Dragon's orders are clear. He is to fend off the enemy besieging Noelle Mallory's castle and bring the lady safely back to Camelot for her wedding day to Sir Gavin. But spending time with the proud beauty awakens an irresistible hunger in Nicholas. Now, as desire does battle with duty, Nicholas has only two choices — to surrender the woman he loves to another man or fight to the end to make her his own.
Authors work hard to bring you these sets.  Please don't forget to leave a review!