99 cent Wednesday! Love, Honor & Redemption
Every Wednesday, I will bring you a great deal.  A boxed set for only 99 cents.  That's a quarter a book, or sometimes, less!  How can you beat that?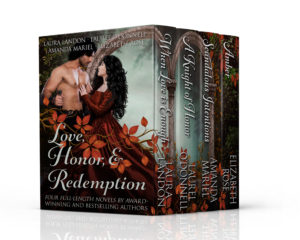 Today's deal is
Contributing Authors
Elizabeth Rose
Laura Landon
Amanda Mariel
Laurel O'Donnell
Blurb
This amazing set includes award winning and bestselling authors! It includes these wonderful full-length novels –
WHEN LOVE IS ENOUGH by Laura Landon –
Lady Lydia Landwell has given her heart to the only man she will ever love. But when Gabriel Talbot destroys that love, she vows she will never make such a mistake again — until he returns from the Crimean War more dead than alive. In a cruel twist, Liddy realizes she's the only person who can pull him back from the grave — even though allowing him back into her life might be the greatest mistake she could make.
Gabe and Liddy's emotion-filled journey of danger and intrigue tests their love and reveals to them the only truth they will ever need to know. That Love Is Enough.
A KNIGHT OF HONOR by Laurel O'Donnell –
Taylor Sullivan flees the tragic flames that destroyed her family by arming herself with a quick sword and a sharp tongue, hiring herself out as a mercenary. Slane Donovan is a knight of honor, sworn to uphold his oath and his word. He seeks the woman who wears the Sullivan ring, determined to bring her back to Castle Donovan to fulfill a promise made to his brother. There are others who seek the Sullivan woman as well, men who pose a far greater threat. Slane must protect his fiery mercenary companion from attacks, but can he protect himself from her undeniable charms?
SCANDALOUS INTENTIONS by Amanda Mariel –
Lady Sarah wants the freedom granted to men, but her only hope is a notorious rake out to keep his father's support at any cost. Neither counted on falling in love.
AMBER by Elizabeth Rose –
Amber de Burgh is a novice in an abbey, sent on a pilgrimage with Lucas, a devil of a man. While Amber plans on praying, that is the last thing on Lucas's mind.
Authors work hard to bring you these sets.  Please don't forget to leave a review!