99 cent Wednesday! Medieval Hearts!
Every Wednesday, I will bring you a great deal.  A boxed set for only 99 cents.  That's a quarter a book, or sometimes, less!  How can you beat that?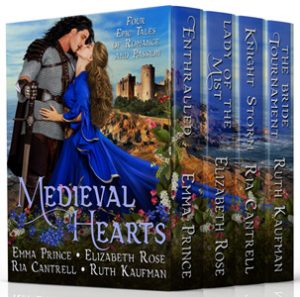 Today's deal is
Contributing Authors
Ria Cantrell
Elizabeth Rose
Emma Prince
Ruth Kaufman
Blurb
Amazon All-Stars Emma Prince and Elizabeth Rose along with best-selling authors Ria Cantrell and Ruth Kaufman proudly invite you to step back through the ages to experience the romance and passion of Vikings, Knights and Pirates in this limited edition collection of four full-length novels.
Enthralled by Emma Prince:
When raiding Northumbria's holy houses to help his village, Eirik meets Laurel, who stirs him like no other. In an attempt to protect her, he breaks his oath never to claim possession of another person and claims her as his thrall. But can he claim her heart, or will Laurel fall prey to His enemies' devious schemes?
Torn between securing her freedom or giving herself to her Viking master, will fate decide for Laurel—and rip them apart forever?
Lady of the Mist by Elizabeth Rose:
Echo, daughter of the infamous pirate, Captain Powell ap Llyr, tries to live up to his expectations of being the son he never had. But when handsome lord Garret is trapped aboard her ship, she can't let him die at the hands of her father and the crew. Love and honor clash as a nobleman and a pirate fall in love and face the most difficult challenge of their lives.
Knight Storm by Ria Cantrell:
Respected as a Healer, Rhianna du Montefort turns a deaf ear to hurtful whispers of "witch" and vows not to marry. Sir Erik Ragnorsen is commanded to marry her, but despite his reputation for honor doesn't wish to marry a witch. Will love be strong enough to weather the storm that threatens to tear them apart?
The Bride Tournament by Ruth Kaufman:
The Gone with the Wind love triangle meets The Bachelor in late medieval England. The king wants Lady Eleanor to marry the new earl, Richard Courtenay. But she wants to marry her betrothed. So she holds a bride tournament to find the earl a better, more willing bride. Who will win his hand in marriage…and his love?
Authors work hard to bring you these sets.  Please don't forget to leave a review!