99 Cent Wednesday! Swords, Secrets and Seduction!
Every Wednesday, I will bring you a great deal.  A boxed set for only 99 cents.  That's a quarter a book, or sometimes, less!  How can you beat that?
Today's deal is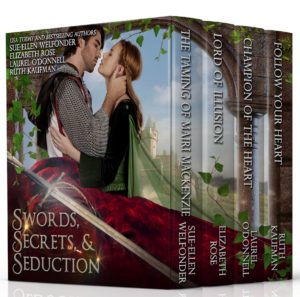 Contributing Authors
Elizabeth Rose
Sue-Ellen Welfonder
Ruth Kaufman
Laurel O'Donnell
Blurb
From USA Today and Bestselling authors that you love! This set includes these four full-length novels –
THE TAMING OF MAIRI MACKENZIE by Sue-Ellen Welfonder
The fate of a battle-weary warrior depends on a mysterious woman, but when they join forces, the passion that consumes them poses a greater threat: a forbidden love so powerful it could destroy them.
LORD OF ILLUSION by Elizabeth Rose –
A lady on the run is looking to escape her betrothed, and a thief is looking to escape his life. Passion and love blooms between two people who shouldn't be together, when they find each other's life more intriguing than their own.
CHAMPION OF THE HEART by Laurel O'Donnell –
He is an outcast THIEF known as the Black Fox, vowing revenge against those who unjustly stripped his father of his knighthood and lands. She is the PROTECTOR of the orphaned children of her village, promising to bring the Black Fox to justice for his dark deeds. Can Fox uncover the sinister secrets from their past and become the champion of his lady's heart?
FOLLOW YOUR HEART by Ruth Kaufman –
Joanna Peyntor sees the world through the jewel-like windows she creates, with her only goal to save her glass-painting workshop from ruin. Sir Adrian Bedford will do anything to restore his family name and estate. When irresistible passion makes their marriage of convenience inconvenient, will his dangerous secrets keep them from following their hearts?
Authors work hard to bring you these sets.  Please don't forget to leave a review!