99 Cent Wednesday! Timeless Tales of Passion!
Every Wednesday, I will bring you a great deal.  A boxed set for only 99 cents.  That's a quarter a book, or sometimes, less!  How can you beat that?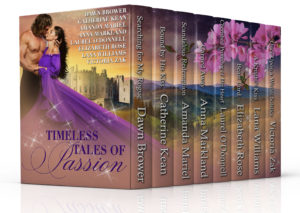 Today's deal is
Contributing Authors
Dawn Brower
Catherine Kean
Amanda Mariel
Anna Markland
Laurel O'Donnell
Elizabeth Rose
Lana Williams
Victoria Zak
Blurb
A magnificent collection from best-selling and award-winning authors! This set includes –
Searching for My Rogue by DAWN BROWER –
While attending a wedding, Alys Dewitt falls through a time hole and wakes up in 1815. James Kendall, the Duke of Weston returns from war to find an injured woman on his estate. Will they fall in love or uncover a way to send Alys home?
Bound By His Kiss by CATHERINE KEAN –
On her way to visit Lord Bramwell Hawksley days before they will marry, Lady Miranda de Vornay is taken captive by forest outlaws. Held hostage by their leader, she fights her shocking desire for the bold, handsome rogue she should despise—especially when he insists he is Bram, and that her betrothed is his corrupt half brother. Uncertain what to believe, Miranda must find out the truth. She will love only one man: the lord to whom she's bound by his long-ago kiss.
Scandalous Redemption by AMANDA MARIEL –
Ruined by scandal, Claudia Akford survived years of marriage to a cruel brute. Widowed, she is determined to regain her standing in society, but Lord Shillington personifies temptation. Kind and gentle, yet masculine and sinfully handsome, he would make the perfect lover, but he wants more than she is willing to give.
Carried Away by ANNA MARKLAND –
Chained by duty, released by capture.
Blythe became Dieter's captive then stole his heart. A fast paced novella set in medieval Germany.
Cherished Protector of Her Heart by LAUREL O'DONNELL –
The honored LADY of Acquitaine prepares for her upcoming marriage. Her BETROTHED battles the unwanted visitors that have come for more than just celebration. Will his past catch up to him and ruin all he has fought so hard to protect?
Beast Lord by ELIZABETH ROSE –
Stefan De Bar is the next of his siblings to be cursed by the old witch, Hecuba. Now he is slowly turning into a beast, and his enemy, Lady Bonnibel might be the only one who can save him.
A Knight's Kiss by LANA WILLIAMS –
Sir Hugh is a knight on a vital mission to halt a murderous plot with no time for distractions.
Liza is known far and wide for brewing fine ale but is faced with unbearable choices when both her sister and her livelihood are threatened. Widowed following a brutal marriage, Liza trusts no man, yet the kindness of this strong knight and the passion he awakens in her tempt her to reconsider.
Having loved and lost, Hugh has no desire to risk his heart again but needs Liza's help to fulfill his mission. Together, these two wounded souls must trust themselves and each other to foil a plot against the king and claim their second chance at love.
Once Upon a Winter Solstice by VICTORIA ZAK –
What if all moments throughout time existed at once? What if you had a love that stood the test of time? Never faltering, never fading. What if one legend brought both time and love together as one? Once Upon a Winter Solstice is dedicated to those who believe in true love.
Authors work hard to bring you these sets.  Please don't forget to leave a review!