99 Cent Wednesday! Once Upon a Historical Christmas!
Every Wednesday, I will bring you a great deal.  A boxed set for only 99 cents.  That's a quarter a book, or sometimes, less!  How can you beat that?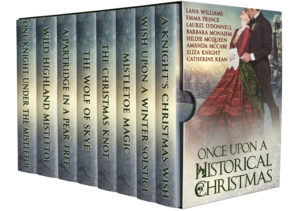 Today's deal is
Once Upon a Historical Christmas
Contributing Authors
Catherine Kean
Lana Williams
Amanda McCabe
Barbara Monjem
Emma Prince
Eliza Knight
Hildie McQueen
Laurel O'Donnell
Blurb
This spectacular holiday collection features warm stories from times past. It includes –
A KNIGHT'S CHRISTMAS WISH by Lana Williams –
A knight's Christmas wish is fulfilled in an unexpected way when he meets a lady in need of rescue.
WISH UPON A WINTER SOLSTICE by Emma Prince –
Deep in the Scottish Highlands sits an ancient well fabled to grant true-love's wish to those who visit it near the winter solstice. To test the powers of the legendary well, Keita Cameron trespasses onto the lands of her clan's enemy. She never expects to come face to face with the man they call the Demon of Loch Moy—or succumb to the dark heat her captor stirs within her.
MISTLETOE MAGIC by Laurel O'Donnell –
A confident knight arrives home to find his childhood friend grown into much more then he remembered. The lady of the castle keeps a dangerous secret that threatens all she holds dear. Will Mistletoe Magic save them?
THE CHRISTMAS KNOT by Barbara Monajem –
It's bad enough being a governess, but far worse that Edwina White's new employer is the man who deceived her years before.
Richard Ballister's estate has a ghost and a curse, and if that's not trouble enough, the new governess is the woman who spurned him for a richer man.
Richard and Edwina don't want to work together, but they have no choice. Can they overcome the bitterness of the past in time to unravel a centuries-old knot and end the Christmas curse?
THE WOLF OF SKYE by Hildie McQueen –
Fate's wicked sense of humor strikes Highland guard Faolan Mackinnon when he ends up betrothed to Catriona Grant, a fiery lass, who he met only minutes earlier.
A heartbroken Highland guard's last desperate attempt to regain the woman he loves becomes a journey across Scotland to a mysterious well that grants wishes. However upon getting to know a beautiful lass in the village of Moy, Faolan Mackinnon questions his true feelings.
A PARTRIDGE IN A PEAR TREE by Amanda McCabe –
Spend the holidays in Regency England! Seeking an heir to her fortune, a widow challenges her family to a wild holiday scavenger hunt in the novella "A Partridge in a Pear Tree"–and two people find a lasting love seeking the Twelve Days of Christmas…
WILD HIGHLAND MISTLETOE by Eliza Knight –
A week before Christmas, snow falls gently on the Highland hills, and once more an adventure awaits the Sutherlands! Dunrobin Castle is overflowing with excitement and holiday spirit because of the upcoming Sutherland clan gathering. Arbella and Magnus' marriage has flourished, their passion and love growing stronger daily. But when a mysterious missive arrives begging Laird and Lady Sutherland for help in a rescue mission, they leave the safety of the castle, and ride headlong into a trap. Will they thwart their enemy and make it home in time to celebrate the holiday season in good Scottish fashion? Or will warring clans prevail? ***This is a Stolen Bride novella–an extension of THE HIGHLANDER'S REWARD***
A KNIGHT TO REMEMBER by Catherine Kean –
Kissing Lord Renfred de Vornay, her late brother's best friend, under the mistletoe was the last thing Lady Liliana Thornleigh ever expected days before Christmas. Seven years have passed since Ren played his foolish prank on her, but she hasn't forgotten that humiliating incident—and neither, it seems, has he. Now a wealthy and respected lord, Ren has important information for her father, but Liliana is suspicious of Ren's reasons for spending Christmas at her sire's castle. As dangerous secrets come to light, will her hatred of Ren intensify, or will she finally put the past behind her and accept Ren's love?
Authors work hard to bring you these sets.  Please don't forget to leave a review!