99 cent Wednesday! Warriors of the Heart!
Every Wednesday, I will bring you a great deal.  A boxed set for only 99 cents.  That's a quarter a book, or sometimes, less!  How can you beat that?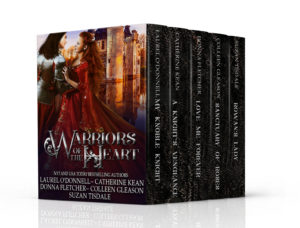 Today's deal is
Contributing Authors
Laurel O'Donnell
Catherine Kean
Donna Fletcher
Colleen Gleason
Suzan Tisdale
Blurb
This amazing set includes five full-length novels from USA Today and Bestselling authors. The set includes –
MY NOBLE KNIGHT by Laurel O'Donnell
A LADY longs to try her skills by competing in the joust. A noble KNIGHT is sworn to the traditional ways of chivalry and to uphold the rules of the joust. Can they work together to discover who is trying to sabotage him while keeping their growing attraction secret?
A KNIGHT'S VENGEANCE by Catherine Kean
When Lady Elizabeth Brackendale is kidnapped and held for ransom by rogue knight Geoffrey de Lanceau, she vows to thwart his plans to exact vengeance upon her father. Yet the more she learns about Geoffrey, haunted by father's killing, the more she yearns for him. Only by Elizabeth and Geoffrey championing their forbidden love can they uncover the secrets that could save or destroy all.
LOVE ME FOREVER by Donna Fletcher
Brianna Cameron finds it difficult to trust any man, but the badly scarred Highland warrior is gentle and kind to her and helps to heal not only her physical wounds, but also her heart. But Royce has a secret that could destroy their love and when danger threatens Brianna's life, it's the powerful Highland warrior who comes to her rescue and seals their fate.
SANCTUARY OF ROSES by Colleen Gleason
Madelyne de Belgrume has lived in secrecy in a hidden abbey for years. Her mad, abusive father, Fantin, believes she is dead.
Lord Gavin Mal Verne wants nothing more than to seek revenge on Fantin de Belgrume … and he has the king's blessing to bring the man to heel.
Gavin nearly dies after a battle with de Belgrume and he is found by a beautiful, serene nun who helps to heal him, touching his heart in more ways than one. When Gavin discovers the nun's true identity as his enemy's daughter, he gives Madelyne an impossible choice: she must either marry … or be returned to her father's custody.
ROWAN'S LADY by Suzan Tisdale
He build impenetrable walls around his heart. She built her own. Fate brings those walls tumbling down, one tender heartbeat after another.
Authors work hard to bring you these sets.  Please don't forget to leave a review!