99 cent Wednesday – Lords of the Isles!
Every Wednesday, I will bring you a great deal.  A boxed set for only 99 cents.  That's a quarter a book, or sometimes, less!  How can you beat that?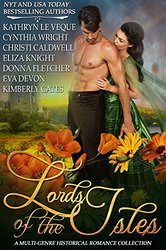 Today's deal is
Contributing Authors
Kathryn Le Veque
Cynthia Wright
Christi Caldwell
Eliza Knight
Donna Fletcher
Eva Devon
Kimberly Cates
Blurb
Seven of the top authors in Historical Romance have come together in a fabulous multi-genre collection. Seven full-length novels take you back to the days when knights upheld the code of chivalry and lords with impeccable manners pursued strong and beautiful ladies. Whether on sea or on land, in England or Scotland or in countries across the seas, you'll find hours of breathtaking love stories in one unforgettable collection.
THE DARKLAND by Kathryn Le Veque – An Irish legacy knight serves his English lord in a castle rumored to harbor a murderer. When the knight falls for a fiery young lady, will she become the murderer's next victim?
OF ONE HEART by Cynthia Wright – When the reckless Andrew, Marquess of Sandhurst is forced by King Henry VIII into an arranged marriage with a young French widow, he conceives a bold masquerade to outwit the king. Disguised as a humble portrait painter, Sandhurst travels to the French court to see this would-be bride for himself!
FOREVER BETROTHED, NEVER THE BRIDE by Christi Caldwell – Hopeless romantic, Lady Emmaline Fitzhugh, is tired of sitting with the wallflowers, waiting for her betrothed to come to his senses and marry her. When Emmaline reads one too many reports of his scandalous liaisons in the gossip rags, she takes matters into her own hands.
HIGHLAND HUNGER by Eliza Knight – What starts out as a race to survive brutal highland games turns into passion to endure together as two competitors come to depend upon each other.
THE RAIDER'S DAUGHTER by Kimberly Cates – When reckless American spitfire Lucy Blackheath barrels into the Earl of Valcour's duel in the middle of a gaming hell, he finds the honor he's won at the point of his sword in peril. Ruthless Valcour has little choice but to force hoyden Lucy to wed him. Can a patriot's daughter enter the world revolution taught her to hate, and set Valcour's heart free?
THE HIGHLANDER'S STOLEN HEART by Donna Fletcher – Rogan MacClennan cannot believe the audacity of Emma Macinnes to call him a coward, then sneak off in nothing more than her nightdress to rescue her sister Heather, his intended. Thrown together in a desperate search, Rogan and Emma find something they were not looking for, something forbidden between them…love.
IN THE DEVIL'S BED by Eva Devon – A Soldier Driven By Revenge: Captain Jack Hazard has clawed his way to the top of London commerce as the owner of the most powerful bodyguard service in the country. But Jack will never know happiness until he destroys the Duke of Chiles, the man responsible for his only friend's brutal death. A Lady Who Won't Back Down:Lady Regan is nothing like her grandfather, the powerful and infamous Duke of Chiles. In fact, instead of oppressing the poor she, in the footsteps of her murdered father, is determined to help them any way she can. But when she needs Captain Hazard's help will she harden herself to the rough man he presents or discover that loves exists even in the darkest of hearts?
Get this LIMITED collection at a great price!!
Authors work hard to bring you these sets.  Please don't forget to leave a review!