Alpha Male Blog Hop starting tomorrow!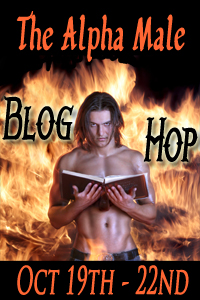 What is your favorite thing about Alpha Heroes? Well, we authors are ready to share our favorite Alpha Males, our favorite things about them, and everything sexy and heated about those Alpha Males you can think of. *wink* Starting on Friday and ending on Oct 22nd, over 200 Authors and Bloggers will share their favorite things about those sexy men we know and love.
And while we do that, we are EACH doing a giveaway. Yep. There will be over 200 giveaways on each blog hosted by that Author or Blogger.
But that's not all….
We have THREE grand prizes. You as a reader can go to EACH blog and comment with your email address and be entered to win. Yep, you can enter over 200 times!
Now what are those prizes?
1st Grand Prize: A Kindle Fire or Nook Tablet
2nd Grand Prize: A $130 Amazon or B&N Gift Card
3rd Grand Prize: The following Swag Pack!