First Kiss Friday – SNAP: The World Unfolds by Michele Drier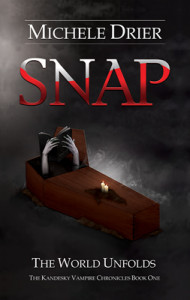 Today's First Kiss Friday featured guest is Michele Drier, author of paranormal romance SNAP: The World Unfolds.  Welcome Michele! 
A bit about SNAP: The World Unfolds –
SNAP, a multinational celeb TV show and magazine, is the holy grail for Maxie Gwenoch. When she snags the job as managing editor, she's looking for fame, fortune and Jimmy Choos. What she finds is a media empire owned by Baron Kandesky and his family. A family of vampires. They're European, urbane, wealthy and mesmerizing. And when she meets Jean-Louis, vampire and co-worker, she's a goner.
The Kandesky vampire family rose in Hungary centuries ago. They gave up violence and killing to make a killing on the world's commodities markets and with that beginning they built SNAP, an international celebrity multimedia empire. Now cultured…and having found food substitutes for killing…they've cornered the world market for celebrity and gossip journalism.
They haven't fully left the past behind.   Their Hungarian neighbors and rival vampire clan, the Huszars are starting to ramp up attacks, maybe looking to start a war to take over all the Kandeskys have built.
Maxie believes she's found her ultimate career.   She doesn't understand that she's found a family feud like none other, a centuries-old rivalry between vampire families, with her as the linchpin. Bells ring with Jean-Louis, but she only realizes they're alarm sirens when she learns that Jean-Louis is second in command of the Kandeskys, and by then it's too late.
The first kiss in SNAP: The World Unfolds –
I went into the cabin, looked at the big bed, chose a side, turned on a bedside lamp and got ready to read myself to sleep. Sometime later I jerked awake. Someone was in the room with me. I wasn't awake enough to remember this room was at 35,000 feet; I screamed. A short scream and just one sound before Jean-Louis put his hand over my mouth. "Hush."
He was glimmering and his eyes were so dark they looked black. He smiled at me, broad enough that I glimpsed his fangs as he leaned toward me. I lurched upright and shrank away.
"Maxie, what's wrong?'
His voice, soft and lulling, brought me fully awake. "I'm sorry, I guess I was still asleep."
"Dreaming again?"
"No," I shook my head. Had I been dreaming? There weren't any noises like before. No vestiges of chases or feelings of fear.
"I wanted to talk to you about the plans. Stefan has allocated a suite of eight rooms for you. It's in the same wing as my suite. You have your apartment and your maid has a room as well.   We know, or we assumed, that you've never lived with other people and servants around, so we set it up to give you as much privacy as possible. We, I, want you to feel this is your home"
I got stuck on "your maid,"
"I have a maid assigned? Who?"
"Lisbet's sister has agreed to come and work for as long as you're there.   She's been working in Budapest but was glad to come home. Her name's Elise. I think you'll like her."
Once again, the vampires had done it right. They were courtly, mannered, urbane. I flashed on suggesting that they give lessons to the world's diplomats.
"If we were great at diplomacy, we'd have won over the Huszars by now," his glimmer got stronger. He ran his hand down my face and my skin tingled.
This time, when he leaned toward me, I didn't flinch. His lips caressed my face, my ear lobes, my eyebrows. I closed my eyes, my bones melting, and began an almost purr as he kissed my eyelids.
"You are soft," he whispered as his hands pulled up the shirt I was sleeping in. He found my mouth with his tongue and sucked my tongue into him. Fangs? No, they were gone. His kiss was so deep I couldn't breathe. He touched my breasts and ran a hand down, over my thigh. I couldn't resist. My body was limp and I silently told him to do whatever he wanted to. He heard my language, and slowly, slowly made love to me.   It was outside any sensations, any sex, I'd ever had and after it was over, we lay twined together.
If this was an introduction to my new world, I was ready.
Buy Links –
http://amzn.com/B0059K50D8
https://store.kobobooks.com/en-us/ebook/snap-the-world-unfolds (Kobo)
http://www.barnesandnoble.com/w/snap-michele-drier/1112308381?ean=2940012818157 (Nook)
https://itunes.apple.com/us/book/id683793091 (iTunes)
http://www.amazon.com/Michele-Drier/e/B005D2YC8G/ref=ntt_dp_epwbk_0 (Amazon author page)