Immortal Death is Here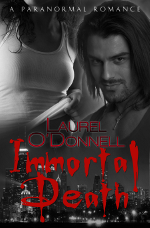 Immortal Death is now available for purchase!
Demetrius Mercer is a fighter vampire for the de Nouviant family who spends his days hunting a rival vampire family for killing his beloved Rosaline. When he learns Jade Smith knows his life story and is publishing it on the Internet for all to see, he must uncover who she is and how she knows so much about his past–before she exposes him and endangers his entire family.
Immortal Death is a paranormal vampire romance novel.  Winner of the Indiana Golden Opportunity contest.
Read more here: Immortal Death