Lord Warin Roke, Villain in Angel's Assassin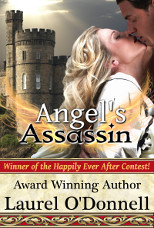 Villain?  I should be insulted by such a title.  But I'm not.  Some people label me villain, some label me the means to an end.  But in the end, it is all about power.
I am Lord Warin Roke.  I am Damien's master.  I bought a boy of sixteen years off the slave ship Redemption.  I liked the angry look in his eyes.  I taught him, like I teach all of my boys.  To kill.  To obey.  To follow orders.  My orders.
Damien was the best.  He was smart, he was skilled with many weapons.  He had the instincts of an assassin.  But he was also obstinate and disrespectful to me.  That is something I cannot tolerate.  But no matter what punishment I gave him, he would not change.  In others, there has always been a way to control them.  Some wanted riches, some wanted women.  But all Damien wanted was his freedom. 
When Lady Aurora of Acquitaine turned down my betrothal offer, I sent Damien.  There really was no other option.  My best for the most beautiful.  Kill her and be free.  That's the offer I made him.  His freedom for one last mission. 
Could he do it?  I love good suspense and this game was too tempting to turn down.  I know Damien.  I know how he works, how his mind thinks.  It would be the most difficult mission of his life.
Read Angel's Assassin and find out why, find out who wins. 
Tomorrow, drop by and read Chapter Two in Angel's Assassin!