Medieval Monday! First Encounter in Curse of the Healer by Ashley York
Happy Solar Eclipse day!  It's also Medieval Monday! Today, I am honored to feature the fabulous Ashley York and the excerpt from her novel Curse of the Healer.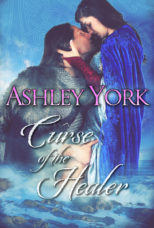 It's about –
After the death of Brian Boru in 1014, a legend arose of a healer so great she could raise a man from the dead, with a power so strong it could make any warrior the next high king of Éire…and to steal it away from her, he need only possess her. 
Fated to be a healer…
Aednat has spent her entire life training to be the great healer, knowing she must remain alone. When she meets Diarmuid, the intense attraction she feels toward him shakes her resolve to believe in such a legend. If she gives in to the passion he ignites in her, can she settle for being less?
Destined to be his…
Diarmuid of Clonascra is renowned for his bravery in battle. Only one thing daunts him: the prospect of taking a wife. The safest course would be to keep his distance from Aednat, the bold, headstrong healer who's far too tempting for his peace of mind. But his overking orders him to protect her from a group of craven warriors intent on kidnapping her to steal her power.
What starts as duty for Diarmuid quickly transforms into something more. Aednat's power might be at risk, but so is his closed-off heart.
Continuing along with the excerpt –
He stopped close enough for her to see the tiny lines at the corners of his bright blue eyes and the quirk of his heavy brow before he asked, "And why would ye not believe what I say to ye?"
"I do not know ye." Arrogant! "And who are ye to say what the lad's punishment should be?"
He had long, dark hair. Taller than most, he was probably seldom overlooked, and she had a notion his will was rarely denied.
Buy Link: https://www.amazon.com/Curse-Healer-Derbfine-Book-1-ebook/dp/B06XC1J99P