Medieval Monday! Join the Journey – The Highlander's English Woman
Continuing along with The Highlander's English Woman by the talented Ruth A. Casie!
Forgot what the story was about?  Here's the blurb –
Laura Reynolds is in love with her long-time friend, Jamie Maxwell Collins. She adores his playful sense of humor, caring nature as well as his strong sense of family and honor.
Jamie lives across the border in Scotland. Outwardly carefree, he hides a dark secret. He can't involve Laura in this deception. He can't give her hope for a future together.
Laura stumbles upon Jamie's secret. In her heart of hearts she knows Jamie is innocent. Their relationship in tatters and with no hope of reconciliation, she plays a deadly game to exonerate Jamie, she agrees to a political marriage. She has no idea the entire game has been orchestrated by her future husband, Jamie's greatest enemy.
***
Continuing from last week –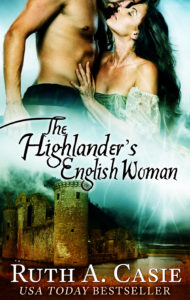 "It's a challenge keeping everyone's spirits up. At times, I succeed." She shrugged. "Other times, I fail miserably. Lisbeth stayed at the Keep for a while then left for the hunting lodge to be alone."
Jamie turned to her. Her drawn ashen face disturbed him.
Follow along next week by checking out Barbara Bettis' blog for excerpt #4
http://barbarabettis.blogspot.com/
Authors work hard to bring you these wonderful stories.  Please don't forget to leave a review!