Medieval Monday! The Pirate's Redemption by Ruth A. Casie!
Today, I'm featuring the talented Ruth A. Casie and her novel The Pirate's Redemption.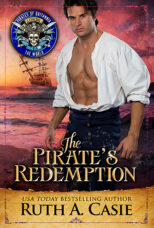 What's it about?
After her beloved father dies, Moira MacDougall becomes chieftain of their small clan. She is tested on every level, not only by her councilors who question her every move, but also by an exiled Englishman who raids her village under the guise of a notorious pirate, Gareth Talbot. 
He wants the secret weapon Moira possesses, and will do anything to get his hands on it—including committing murder so he can give it to King Henry to prove his worthiness and be welcomed home. 
Moira will follow her destiny and do whatever is necessary to protect her clan. 
The real Gareth Talbot is through with love. His last romance did not end well. He suffered a broken heart and doesn't trust women. 
Humiliated, Gareth goes to sea and becomes a captain for MacAlpin, the pirate king. When raids along the Scottish coast are blamed on him, he seeks revenge. Nothing less than death will do.
Moira and Gareth are on different missions but seek the same goal. Can they work together and eliminate their greatest enemy, and in the process, find the one thing they didn't know they were searching for, true love?
Buy The Pirate's Redemption here –
Here's the continuing excerpt from The Pirate's Redemption –
She didn't resist but gave herself freely to his kiss. His hand ran up her arm, the tenderness of his touch made her powerless to refuse him.. He broke the kiss and then rested his forehead against hers.
Entranced by the tenderness between them, Moira longed for more. She wanted to know what it felt like to be wanted by a man, happy, secure…
A soft moan escaped Gareth's lips.
A deep sensual sound stoked a gentle growing fire that steadily grew. In the darkness, she ventured to stare at him openly. There was strength and tenderness in the way he carried himself. Pride and something else she struggled to name. He was a man who know who and what he was. He glanced at her with that devilish grin that made her melt. 
Follow along next week (January 13) for excerpt #9 here: https://bambilynnblog.wordpress.org
Please leave a comment below. Miss last week and a chance to comment? Check it out here: https://www.ashleyyorkauthor.com
And don't forget that I'm on Ruth's blog today! Drop by and leave a comment! Ruth's Blog