Medieval Monday! To Love a Scottish Laird by Sherry Ewing!
Today, I'm featuring the wonderful Sherry Ewing and her novel To Love a Scottish Laird.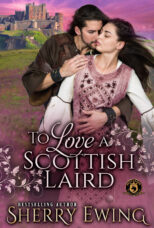 What's it about?
Sometimes you really can fall in love at first sight…
Lady Catherine de Wolfe knows she must find a husband before her brother chooses one for her, but none of the knights and lords she knows have caught her eye. A tournament to celebrate the wedding of the Duke of Normandy might be her answer. She does not expect to fall for a man after just one touch. 
Laird Douglas MacLaren of Berwyck is invited to the tournament by the Duke of Normandy. He goes to ensure Berwyck's safety once Henry takes the throne. He does not expect to become entranced by a woman who bumps into him. 
Before they can express their feelings, the Duke orders them wed to strengthen ties between his English supporters and the borderland, and then separates them by commanding Douglas's escort to his home.
Yet, nothing is ever quite that simple. Not everyone is happy with the union of this English lady and a Scottish laird. From the shores of France, to Berwyck Castle on the border between their countries, Douglas and Catherine must find their way to protect their newfound love.
Buy To Love A Scottish Laird here –
Amazon US: https://amzn.to/2UbuMKB
Here's the continuing excerpt from To Love a Scottish Laird –
But once he grew tired of her ill words, Douglas took her into his arms, pulling her close. She fit there so perfectly, he momentarily overlooked what they were arguing about. He watched in startled fascination when her pupils dilated and her breaths grew shallow. Ah… The undeniable connection they had both forgotten about returned tenfold as he embraced her.
Her hands went to his chest, and he swore his heart leapt at her touch. Bloody hell! Why could the smallest of gestures from this wee woman cause such a reaction?
"For such a beautiful woman, ye can certainly curse like one of my men," he observed.
Follow along next week at Bambi Lynn's blog at www.bambilynnblog.wordpress.com
And don't forget that I'm on Ruth's blog today! Drop by and leave a comment! Sherry's Blog