Medieval Monday! Wrapping It Up With Angel's Assassin!
Thank you for following along with Angel's Assassin.  I hope you enjoyed the scene.  Now, here's the last part of the scene from Angel's Assassin!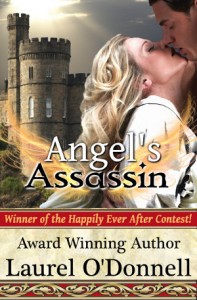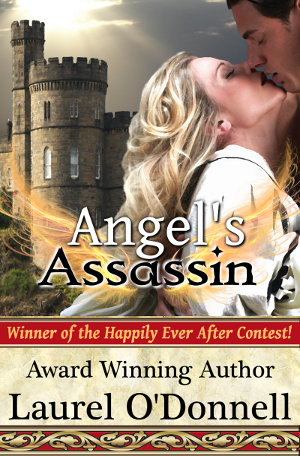 Forgot what the story was about?  Here's the blurb –
Damien is an assassin, a man with a tortured past. Sold into slavery, he is trained to kill. Lady Aurora of Acquitaine is the epitome of purity and goodness. When Damien enters Aurora's life, tempting her with promises of forbidden lust, he threatens to tear her peaceful world apart.
***
Continuing from last week –
Damien's horror was only surpassed by his rage.  Mother's dirty hands were on her!  Aurora, Aurora, his mind continued to call.  He saw the terror and the tears in her bright eyes.  If Mother hurt her there would be no end to the bloodbath that would follow.  Damien felt the beast inside him shifting, rising, demanding retribution.  His gaze remained riveted to the only light in his life, holding the beast in check for a moment.
Instinct took over, and he scanned the scene.  Aurora's arms were behind her back, probably tied.  A gag was firmly in place in her mouth, the cloth tied behind her head.  She wore the same chemise she had been in when he rescued her one day ago.  A sharp stab of guilt pierced his chest.  He should have stayed with her.  But he pushed that thought aside and concentrated on observing.
Mother's hand wrapped about her throat like a collar.  His dirty, calloused hand was on her pure skin!  Outrage stirred the beast and it took Damien every ounce of control he could muster to keep it in check.  Damien's teeth ground.  Mother's other arm wound around her waist like a belt.  Damien's hand tightened around the pommel of his weapon.
"Put down the sword, Damien," Roke said softly from behind him.
What will Damien do?  Is he defeated?  Can he save Aurora?  You'll have to buy my award-winning medieval romance, Angel's Assassin, to find out!
Buy links:   AMAZON
Authors work hard to bring you these wonderful stories.  Please don't forget to leave a review!