My Noble Knight! Medieval Romance on sale for 99 cents!
Kindle Countdown! My Noble Knight. A great deal on this medieval romance. Regularly priced $3.99, now only 99 cents until July 26th!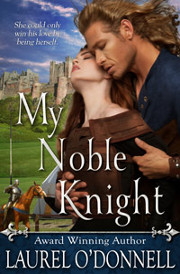 Amazon Star rating – 4.5 stars from 42 reviews
Bestselling Medieval Romance!
Blurb –
Layne Fletcher, the only girl in a family of three boys, has grown up learning to use a sword and joust, but she is not a knight. She and her brothers have been traveling from tourney to tourney to make enough coin to buy their own farm to shelter their ailing father. When her brother is found unconscious before an important tournament, Layne takes his place on the jousting field against…
Griffin Wolfe, the undefeated jousting champion. When he is unhorsed by a slip of a woman who is not a knight, he demands retribution. His honor will not allow him to let a woman be thrown in the dungeon and he has no choice but to pay her fine, ordering her to travel with him until her brothers can repay him. Griffin attempts to educate Layne in the art of being a woman, but finds he is attracted to her exciting personality and uncommon beauty despite her less than lady like ways.
But someone is trying to sabotage Griffin as he competes in the tournaments. Can Layne and Griffin discover who the culprit is while keeping their families safe and their growing attraction secret?