Only 99 cents Day!
Every Wednesday, I will bring you a great deal.  A boxed set for only 99 cents.  That's a quarter a book, or sometimes, less!  How can you beat that?
Today's deal is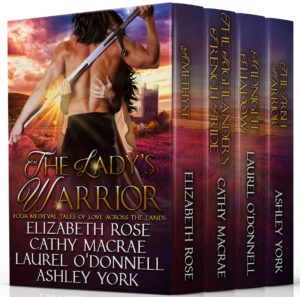 The Lady's Warrior – Four Medieval Tales of Love Across the Lands
Contributing Authors –
Elizabeth Rose, Cathy MacRae, Ashley York, Laurel O'Donnell
Blurb –
AMETHYST by Elizabeth Rose –
Amethyst de Burgh is sent by the archbishop to assist her uncle, a master mason, in building a castle for the infamous border lord, Marcus Montclair.
THE HIGHLANDER'S FRENCH BRIDE by Cathy MacRae –
Disillusioned by the war in France and imprisoned for a crime he did not commit, Highlander Kinnon Macrory searches for the one thing of beauty in his life–a Frenchwoman named Melisende.
MIDNIGHT SHADOW by Laurel O'Donnell –
When the unjust rules of a neighboring lord terrorize her friends, Bria Delaney dons the mask and cloak of her childhood hero to right the wrongs and save them from oppression. Torn between the woman he longs to trust and the outlaw he has vowed to hang, Terran Knowles vows to find the truth. Will a legendary hero find love in the arms of her enemy?
THE IRISH WARRIOR by Ashley York –
Sean of Drogheda is pulled into political Norman intrigue he'd prefer to ignore but when it jeopardizes the life of the lovely "Tommy", he finds he can't turn away from the deep need to protect her as his own. Will Norman soldiers out for his blood and shifting clan alliances cut short their growing passion?
Authors work hard to bring you these sets.  Please don't forget to leave a review!