RT Convention 2012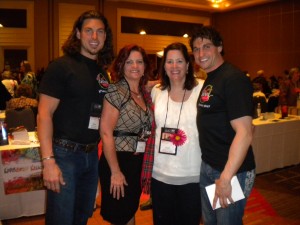 I had a great time at the Romantic Times convention!  It was wonderful to finally meet my cover designer, Kim Killion.  She is so talented and her covers are brilliant!
Those two handsome guys posing with us are Brooks, featured on The Angel and the Prince (you might not recognize him with his shirt on) and Bill, from the cover of Lost Souls: Resurrection.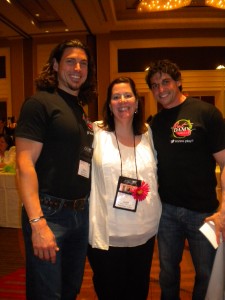 I attended some great workshops including the self publishing workshop entitled What's Coming Next: The Future of Self Publishing presented by Blake Crouch and J.A. Konrath.  They were both very entertaining.  The future they see for self published books was fascinating.  And I'm thankful that the possibilities for readers and writers will continue to grow.  Technology is a wonderful thing!
The ATF Workshop by Chicago's Special Agents was riveting.  They spoke about how they became special agents, what their jobs entailed.  I'll tell you, I have a new respect for those guys and gals.
Thursday wrapped up with the ebook signing.  It was a lot of fun to meet some of my fans and talk to some of the other authors.  I'm really glad I got a chance to attend.