Angel's Assassin Week!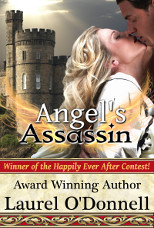 Angel's Assassin is coming out July 3rd!  So, please visit back every day between now and then for sneak peeks, characters interviews.  It's going to be a great week!  Tomorrow, Lady Aurora of Acquitaine will be here to welcome you.
Here's a quick excerpt!
Damien moved up beside Aurora as she stood looking out over the dark waters.  He had accompanied her as she retreated from the grisly sight of her slain friend to the comfortable confines of the tower.
She stared out at the ocean.  Tendrils of her golden hair whipped about her face like a cape.  When lightning speared the sky, it threw a turbulence of light and dark shadows across her face.  He saw the vulnerability in her eyes, saw the rippling of unshed tears.  And then the streak of lightning disappeared, plunging her features again into blackness.  Thunder rumbled above them.
"Why did you kiss me?" she wondered.
The abrupt question seemed out of place, but he knew she was trying to force her mind away from the gruesome scene she had just witnessed.
Lightning flashed in the distance, growing closer every second.  The wind picked up around her, snapping her hair behind her.  Damien watched the strands fly about her face, the face that sent his dark intentions soaring toward a bright light, toward a radiance that offered a shimmering ray of hope.  She had a face that was simply mesmerizing to look at.  The delicate, yet strong and regal, line of her jaw.  The cheekbones of a Greek goddess.  The lips that created the most sensual mouth any man could ever imagine.  A mouth that created a voice that would humble any Siren.
"Was it to punish me?  Was it to teach me something?" she asked
"To tempt you."
"Tempt me?" she echoed, confused.
"I wanted you to be like me," he answered truthfully.  She deserved to know the truth in her last moments.  "I wanted you to be flawed, weak.  I wanted you to be like everyone else."
She faced him and Damien was shocked to find vulnerability in her large eyes, a deep sadness.  "You are my weakness."
Shock speared through Damien.  Me? he silently questioned.  Why on earth would I be her weakness?  But her words rang true.  He remembered the look of concern in her eyes when she realized the arrow had poisoned him.  He recalled the way she lifted her lips to his when he tempted her.  Could it be?  Could she truly mean what she said?  Damien lifted his hand to brush one of those golden tendrils from her cheek.  It encircled his hand.  No.  It couldn't be.  It was her grief talking.  She needed someone, anyone to distract her from her pain.  "You don't know what you're saying."  He wrapped his arms around her waist, pulling her closer to him.
For a moment, she stiffened, but then she relaxed against his body.  The tight expression on her face melted into one of anguish.
Damien's heart twisted at her pain.  He wanted to relieve her agony, to reassure her.  He bent his head to her lips.