Damien, super hot hero of medieval romance Angel's Assassin!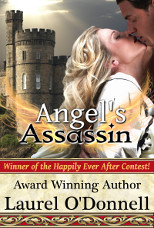 You know me as Damien.  I had a name long ago that I have chosen to forget.  That was after my own father sold my brother and I into slavery.
I am an assassin.  I was an assassin.  My sole purpose in life was to gain my freedom from my master, Warin Roke.  But I never realized the price it would come at.  Kill Lady Aurora of Acquitaine.  When I first saw her I was surprised by her beauty.  I suppose this is why I hesitated at first.  But then I got to know her.  In my experience, if the appearance is pleasing to the eye, then the personality is twisted and mean.  This wasn't the case with Aurora.  She was good and kind and…  Well, she treated everyone with respect.  Even me.  Even at first.
But how could she know?  How could she know how evil I was?  How could she know the things I had done?  They were unforgiveable.  The only thing that seemed important to her were my acts when she was around.  And when I was around her, I was a different man.  I wasn't the assassin.  I was a hero, a man of honor.  She made me something better.  She showed me how.  And for that I will be forever grateful.
If you want to read about how she accomplished this, you'll have to read Angel's Assassin.
Aurora changed me.  She gave me my redemption.  She made me fall in love with her.  Now, it is my turn to teach Aurora to place herself first, above her people.  To think of herself first.  It is a hard lesson and I'm not sure she'll learn it.  At the very least I can get her away from her people with a glower at them and a smoldering glance at her.
She's almost done speaking to Hannah.  I can see the two of them looking in my direction.  Aurora has that sly, proud grin on her lips that drives me crazy.  So, I must leave now.  My angel needs me.