First Kiss Friday – Coming Home by Cynthia Owens
Today's First Kiss Friday featured guest is Cynthia Owens, author of the historical romance Coming Home.  Welcome Cynthia!  Here's the first kiss between Cavan Callaghan and Ashleen O'Brien in Coming Home!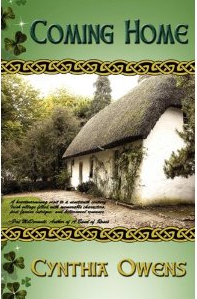 He smiled, unable to resist touching her mist-spangled hair. "You have the kindest, most generous heart I've ever had the pleasure of knowing."
Surely it would be safe to kiss her just once. A light brush of his mouth against hers. He didn't expect the sweet response of her salt-dusted lips, or the explosion of desire that made every nerve in his body harden in response to her yielding softness.
He pulled back, staring into her bottomless sea-swept eyes, hungry for some signal that she wanted this as much as he did.
"Cavan." She smiled up at him, a smile that trembled at the corners. Then she slid her arms up over his shoulders to clasp around his neck.
It was all the response he needed. With a harsh groan, he slid both arms around her waist and claimed her mouth with his, devouring her sweetness, reveling in her softness. She made a breathless, contented sound at the same time, and waves of desire roared through him.
He let go of her sweet, rosebud lips long enough to press feather-light kisses on her cheeks, her closed eyes, the tip of her nose, before wandering down to the soft cleft between her neck and shoulder. She shivered in response, and he pulled her closer to absorb her startled response.
This time Ashleen pulled back. She stared up into the depths of his eyes, trying to memorize the tenderness she saw there. "Cavan," she murmured. She raised a hand and drew it slowly down the side of his face, again and again, smoothing the tiny lines around his eyes and mouth, skimming over the planes of his high cheekbones. "Cavan."
"Ashleen, I want to touch you, taste all of you. I want you."
"We've only known each other a week," she protested, overwhelmed.
"We've known each other forever in our hearts," Cavan argued, running his fingers up and down her back, sending shivers of longing racing through her veins. "And I can't bear the thought of not seeing you again."