First Kiss Friday – Follow Your Heart by Ruth Kaufman
Today's First Kiss Friday featured guest is Ruth Kaufman, author of historical romance Follow Your Heart.  Welcome Ruth!  Here's the first kiss between Adrian Bedford and Joanna Peyntor.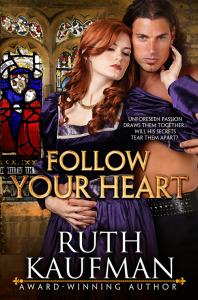 At that moment, Joanna glowed. Her eyes, her expression, her words captivated him. Adrian could no longer resist her allure. In an instant he drew her into his embrace.
He kissed her, hard and hot.
Joanna opened her mouth against the urging of his. She tasted better than his favorite cherry pottage. Adrian plunged his hands into her hair. The thick, curling masses he'd so longed to touch felt as soft and smelled as pleasing as he'd imagined.
She leaned into him, her breasts against his chest, the softness of her thighs flush against his hardening groin. He clutched her closer, awash in yearning.
Adrian pulled away, struggling to catch his breath. "Joanna. We— I—"
Stunned by the force of his desire for her, he couldn't speak. Couldn't bring himself to discuss what they'd just done. Doing so would breach their recently signed agreement.
So he left without another word. And cursed himself for acting the coward.