First Kiss Friday – Lady of the Mist by Elizabeth Rose
Today's First Kiss Friday featured guest is Elizabeth Rose, author of historical romance Lady of the Mist.  This is one of the wonderful novels included in the Castles, Knights and Chivalry boxed set available for preorder for only 99 cents.  Welcome Elizabeth!  Here's the first kiss between Garrett and Echo.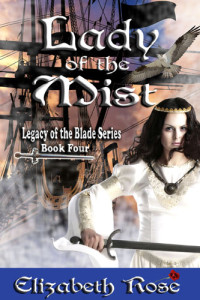 "What the hell is so damned funny?" Echo ground out.
Garrett laughed again as if something she'd said had amused him. Then he walked around the fire and came to sit by her side. He leaned back against the rock, and before she knew it, his arm was around her shoulder. She looked down at his hand and then back up to his eyes.
"You, sweetheart," he answered. "You make me laugh."
"Quit calling me sweetheart. Save it for some of yer pompous ladies of the court. It does naught fer me."
Actually, she rather liked the endearment. It was nothing that she'd ever heard in her life from anyone. It made her feel special. But still, it made her uncomfortable at the same time. That was an endearment for refined ladies – not for a pirate's daughter raised by whores and smelly sea dogs. Nay, she didn't deserve that name at all.
"I agree you are far from a lady," he told her, "and that is what I like about you."
"What?" She wasn't sure if he was being sincere, or making a jest.
"No lady could have saved my life, helped me escape, and out drank and tricked a ship full of men the way you did. I have never seen a woman climb the rigging, wield a sword, or fight. I have the wounds to prove your accuracy too," he said with a smile.
"So . . . yer sayin' ye like that in a woman?" she asked, trying to understand what he meant.
"I'm saying . . . I like that in you." He brought his face close to hers, so close she could feel his breath on her lips. "You amuse me and amaze me every minute of the day," he told her. "And that excites me like no woman has ever done before."
Before she could respond, he'd placed his lips gently over hers. He tasted like the sea . . . and better still, sunshine and fresh air. There was a manly essence to him that excited her as well. He was handsome and courteous, and stood for morals and truth. He was the embodiment of everything that she'd been raised not to be. He protected the channel while she raided it. He was a knight with chivalric actions, and a baron who carried out orders for his king and country. She was a thief in the night that picked a fight for nothing better to do when she was bored.
His lips caressed hers again, and his other arm encircled her as he pulled her closer. This time she realized she was tasting power and authority. Nobility and . . . passion!
She pulled away so fast she almost hit her head on the rock behind her.
"What's the matter my Lady of the Mist, do I scare you?"
Scare her he did, but she would never let him know it. He scared her because once she tasted his lips upon hers and felt the warmth of his embrace, she knew it was what she'd been searching for her entire life.