First Kiss Friday – Loving Leonardo by Rose Anderson
Today's First Kiss Friday featured guest is Rose Anderson, author of Victorian polyamorous romance Loving Leonardo.  Welcome Rose!  Here's the first kiss between Nicolas and Ellie.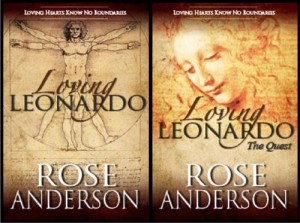 After days of travel, newlyweds Nicolas and Ellie share their first kiss as man and wife
My wife came out of the bedroom looking absolutely beautiful wearing a gauzy gown with a low yoke of fine lace. With the pink tint of her skin visible through the lacework, it brought to mind the little light-filled windows for which Johannes Vermeer was noted. The view being enhanced by her cloud of undone cinnamon curls, I found it all rather enticing. Who would have thought? I handed her a glass and she raised a brow.
"Champagne?"
I chuckled. "When I thought about an after-dinner drink, I found it far less obnoxious than the idea of brandy."
I loved it that she laughed. In truth I wasn't sure how to recapture our earlier encounter and thought a milder drink might relax us and open us to any eventuality, whether we came together again tonight or not. But to her, I said, "I thought we'd toast to our new beginnings as man and wife."
The blush pinked her cheeks. Ah, the green sapling. We clinked our glasses and sipped. I could see a question forming in the blue depths of her eyes. But it wasn't there for long. She refilled our champagne, then in her typical fashion launched right to it.
"I must admit, I'm confused by what occurred between us earlier. I know you'd made it clear that afternoon in your townhome that one day we'd have to figure something out. You know, procuring an heir for your family and all… but am I wrong to believe your desire was for me today… desire for me, a woman… and not because you'd remembered fondly Jerone's actions of the night before?"
Not in all my years did I meet such a forthright woman as this intriguing wife of mine. I thought how to answer this question, the answer for which contradicted a decade of my sexual practice. Meeting her eyes, I couldn't help but notice she had the slightest worry in her brow. She wanted me to want her. And I did. I wanted her more than anything in that moment. I took her empty glass and set it with mine. Leading her to our bed, I sat with her there, holding her hands for a time; more to steady mine than hers, truth be told.
Seeing she needed an answer from me, I brushed back her curls and took her face between my hands. Drawing close, I kissed her. It began as a tentative touch of my lips to hers. But her mouth was soft and pliant and, unlike my male lovers, her chin and upper lip were void of rasping whiskers. This discovery alone caused my kiss to firm. I pressed into it wanting it all. Slanting over her, I dragged my kiss back and forth forcing her mouth to open to me. Her sweet champagne tongue coiled with mine hesitantly at first, but this grew bolder the more familiar our lips and tongues became.
For all our restrained beginnings, I could tell in her return that kissing wasn't new to her. She knew how to kiss a man, god yes, she did. I craved to know this enigma, craved to comprehend this contradiction I was fastly discovering Ellie to be. She was both neophyte and temptress. It was her shyness that confused me. It came and went like waves lapping on the shore. Her hands covered mine as her body melted against me, the leverage gained deepened her kiss as she plunged her tongue and forced mine to chase it.
In ebook and paperback on http://www.amazon.com/dp/B009LS3H6Q
Loving Leonardo: The Quest – Coming Soon!