First Kiss Friday – Boom! Listen to your Heart by Roxanne Rogerson
Today's First Kiss Friday featured guest is Roxanne Rogerson, author of contemporary erotic romance Boom! Listen to your Heart.  Welcome Roxanne!  Here's the first kiss between Michael Atherton and Jessie Halliwell.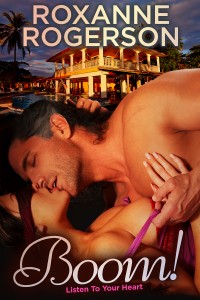 Intro: After a disastrous first meeting, Michael and Jessie meet again on holiday in Panama.
He disappeared each time a wave broke over his head, then, to her relief, popped up, his hair plastered to his head, water cascading off his body.
Every time he resurfaced, she hoped for a glimpse as the elastic waistband rode lower and lower on his hips.
Pulling up his shorts, he beckoned, a broad smile on his face. Had he seen her almost drooling at him?
She was content to stay where the waves had spent most of their power. It was safer. There was no way she'd risk going underwater. She shook her head.
He disappeared under another wave, beckoning again when he resurfaced. She shook her head more forcefully.
Michael walked back to her. He took her hand. "Come with me. It's exhilarating. Trust me."
A fear she recognized as irrational skittered through her belly. She pulled back.
Michael held fast. "Come with me."
There was no mistaking the hint of command in his voice. Reluctantly, she moved into deeper water. An enormous wave loomed. She hunched her shoulders, preparing to be swept off her feet. She would flounder, gasping for breath, panicking until her feet hit bottom again.
As the wave crested over them, Michael put his arms around her waist, lifting her to his hard body. He jumped, so their heads remained above the water, then set her down as the wave continued its journey to shore. She was wet from head to toe from the spray, but there'd been no panic, no sense of drowning.
"I told you to trust me," Michael said, slicking wet hair off his face.
Jessie nodded, blinking away drops of seawater from her eyelashes. "I know. It's just that I'm afraid of—"
Another wave swept them both off their feet. She flailed about, spluttering and choking, but soon felt Michael's arms around her again. Relief washed over her.
"Sorry about that," he laughed. "Wasn't paying attention. Too busy admiring your boobs. I won't let go again. Promise."
His hard erection pressed against her. It felt huge. They bobbed in the waves, chest to breast, her hands gripping his biceps, his arms around her waist.
He was right. It was exhilarating. "I'll hold you to that promise," she said.
Gradually, she relaxed. Soon she could predict when he was going to jump without his wink forewarning her, and she pushed off with her toes, feeling completely safe. As one, they set their own rhythm to match the ocean's timeless flow.
~~~
Michael floated in a primeval dance. He was one with the sea and the woman he held. Though the ocean held the power, he was in control, invincible. If his arms weren't clamped around Jessie's waist he'd be beating his chest like a prehistoric caveman.
This felt so right.
Time stood still. He closed his eyes, licking the salty tang on his lips as Jessie lay her head on his shoulder. She too seemed at peace, completely relaxed, willing to let him keep her afloat. She'd surrendered her fear to him.
His cock ached pleasurably in the warm water. Jessie shifted position, winding her arms around his neck, her legs around his calves, their swimsuits the only barrier between her slit and his cock. She'd entrusted herself completely to him. Was that the theme from Titanic she was humming?
"Look at me," he rasped.
She lifted her head slowly. He wasn't sure what he saw in her brown eyes—longing, confusion, uncertainty, but not fear. He bent his head to kiss her, brushing his lips against hers. She opened for him immediately, their tongues mating, mingling. Her skin was warm and wet. He tasted salt, and orange juice. He tightened his hold, increasing the intensity of the kiss, plunging his tongue deeper, sucking hers into his mouth, until they broke apart, breathless.
"I want you," he said. "Come to my room."