First Kiss Friday – Ruined by Alicia Dean
Today's First Kiss Friday featured guest is Alicia Dean, author of historical romance Ruined.  Welcome Alicia!  Here's the first kiss between Eliza Gilbert and Vince Taggart.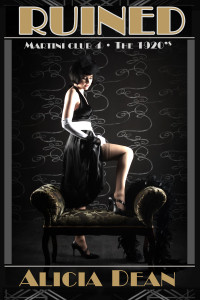 She turned to lead him to the door, and he took hold of her hand. His warm fingers closed around hers, and tingles of delight rippled up her arm to her breasts.
Good Heavens, what was wrong with her? This man did strange things to her that were not at all unpleasant. Nerve-wracking yes, unpleasant, most definitely not.
With a hand resting on her lower back, burning like a coal oven through the thin material of her dress, he led her down the hall to one of the rooms Oscar maintained for the convenience of his guests.
With a turn of the key, she pushed the door open. He followed her inside, and she closed the door behind them. "So…"
Mr. Taggart didn't reply. She waited. Thomas Killman had made all the moves. All she'd had to do was suffer through them. But Mr. Taggart was just looking at her. His arms were crossed over his broad chest that even a suit couldn't disguise. His eyes narrowed, but he said nothing.
She laughed self-consciously and lifted her arms, let them drop to her sides. "Can I…get you anything?" Her voice warbled, and she cleared her throat.
He uncrossed his arms and shoved his hands in his pants pocket. "You seem awful nervous for a pro."
"You've been with a lot of…pros?" The thought that he had done this before, perhaps many times, was oddly disturbing.
He shook his head. "My first time." His tone was warm, husky, washing over her skin like a lover's caress.
She drew in a fortifying breath and mustered a coy smile. It was time she began acting the part of a vamp. Apparently, that was to be her calling. She sauntered over to him. "Well, you just relax, sugar."
She wound her arms around his neck and pressed her body to his. He was somehow hard and yielding at the same time. Warmth spread through her, settling between her thighs. She locked onto the clear sky of his eyes and stood on her tiptoes. He hadn't spoken. Hadn't moved. So, he was leaving this all up to her. She swallowed hard and touched her lips to his. His only reaction was a sharp intake of breath.
She nibbled on his lower lip, then once more kissed him. His arms went around her, settling on her hips, pulling her into him.
He returned the kiss, and she opened for him. Surprised delight rippled through her when his hot tongue touched hers. His kisses were nothing at all like those of the slobbery, disgusting Killman. She let out a soft moan.
His muscles tensed beneath her hands, and he broke the kiss. He took hold of her arms and pulled them from his neck. "That's not what I want." His voice was hoarse, and he took in short breaths as he stared down at her with hooded eyes.
She suffered a brief moment of relief mixed with disappointment. What else could he want? She'd heard dreadful stories. Men who liked to get mean with the girls. Panic fluttered to her chest. She stepped back quickly.
"I don't do any of that rough stuff. Oscar won't let anyone hurt me." She didn't know that to be true. In fact, Oscar would probably allow anything for money. But she hoped this man would believe her.
He gave a gentle smile and stepped forward, caressed her cheek with his large, rough hand. "I don't want to hurt you. I just want to talk."
Amazon: http://amzn.com/B00RICLM2I
B&N: http://www.barnesandnoble.com/w/ruined-alicia-dean/1121316629?ean=2940151708210