First Kiss Friday – Broken Identity by Sarah Jae Foster
Today's First Kiss Friday featured guest is Sarah Jae Foster, author of inspirational romance Broken Identity.  Welcome Sarah Jae!  Here's the first kiss between Mona and Brian.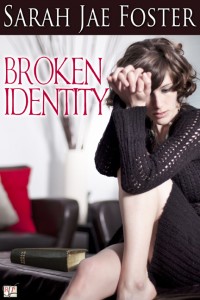 He was such a man of faith. Her fervent hope was that he never lost it, as she had. Living without a relationship with God, even temporarily, had been a nightmare and she'd not wish that on anyone, especially Brian. It was a place she never imagined herself to be in and yet, here she was. Absurdly, she felt it within her power to ruin him as a man, to take that faith away, and that was something she just wouldn't risk.
With Bible and notes in one hand, jacket draped over the other, she watched him walk toward her and the children, whose heads were down in math problems and science projects, oblivious to their father leaving for the night. Such routine it was on a Tuesday.
She waited for the perfunctory kiss she knew was going to be placed on her cheek and offered it in his direction. "I love you, Mona."
She'd always melted when Brian said her name and to his advantage, he knew it. So on occasion when he'd say it, she was aware that all of his attentions were on her, the woman he loved. The love she felt transfer in that moment warmed her from toes to heart, she caressed the five o'clock shadow bristling his face. "I love you, too." A pang of guilt went off in her chest.
She decided to walk him to the door and stood. "Kids, say good-bye."
Ben's focus remained on the dead beetle carcasses in his lab dish but Zoey raised her head enough to catch her daddy's eye and mumbled. "Bye."
Brian laughed, shrugged his shoulders and flashed a mischievous grin. He swung his wife behind the hat rack cloaked with fall coats and murmured into her neck, "I'll be looking forward to coming home to you tonight, Mona Leigh Anderson." And the next kiss she received wasn't a perfunctory one at all; it held nothing but passion and anticipation.