First Kiss Friday – This Heart For Hire by Elysa Hendricks
Today's First Kiss Friday featured guest is Elysa Hendricks, author of western historical romance This Heart For Hire.  Welcome Elysa!  Here's the first kiss between Jake Gallagher and Christina Goodwin.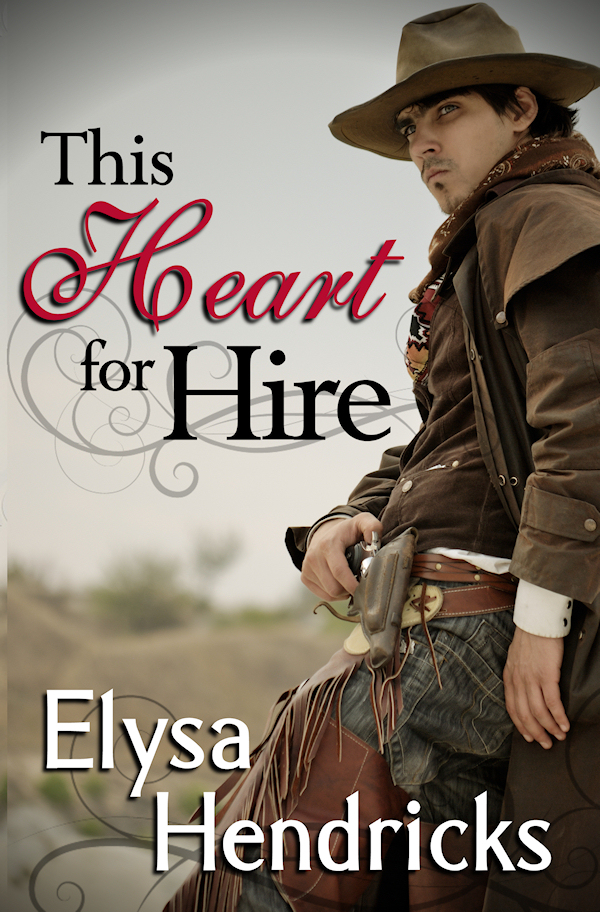 "You did just fine. I'm living proof." Jake watched with pleasure as a smile lit up her face. He returned it. "Tell me how your brother came to hire me? Where we met? Maybe you can help jog my memory."
A panicked looked crossed her face and she went suddenly pale. "I-I, w-we…" Her gaze darted around refusing to settle on him. Then with an audible breath she regained control. "I'm not sure how or where Christopher met you. He never said. I was staying in, um, in Ramblin waiting for him. He brought you there and we headed out for St. Louis."
Jake listened to the girl's lies. Like before, she didn't do it well. Her nervous plucking at her skirt and the way her gaze avoided his gave her away. "If we met in Ramblin for me to guide you north to St. Louis, how did we end up in Peaceful which is southeast?"
Color crept into her cheeks as she stared at him in horror. "You remember?"
For some reason she didn't want him to remember, which made him more determined to do so. "No, but I know where Peaceful is and it isn't on the way to St. Louis from Ramblin. So how did we end up there?"
"You had some business there." Her chin came up, but her eyes didn't quite meet his. "I don't know what it was. You didn't say. But that's where Christopher died. Can we not talk about this anymore? Please." Her voice broke on the last word and she bent her head to hide the tears he saw gathering in her eyes.
As much as he needed the truth, he found himself unwilling to push her. Her tears softened the hard knot of anger inside him.
A tendril of hair fell forward across her face and he reached out to brush it away. His knuckles touched the tender skin of her cheek and lingered. She looked up with startled eyes, her lips parted in question. Her lies forgotten, his gaze locked with hers. He caressed her face then threaded his fingers through her hair. Like silk it flowed over his hands.
Cupping the back of her head in his hand, he leaned toward her. The tempo of her pulse increased beneath his fingertips. Her breathing grew shallow and her eyelids fluttered shut. At his gentle tug, she swayed into him. His other arm went around her back and pulled her into his embrace. With a soft sigh she surrendered to his caress. Without hesitation he slanted his lips across hers.
Sensations swamped him, his own hot, pounding hunger and her sweet, warm yielding. His arms tightened as he deepened the kiss. With a gentle probe he urged her lips apart. After a slight hesitation, she allowed him entrance and his tongue explored the moist recesses of her mouth.
Take it slow, gentle, Jake warned himself. One hand massaged the small of her back and molded her slim frame to his harder one. The other anchored her head so she could not escape his kiss, even though she showed no signs of wishing to. With difficulty he held his passion in check.
He filled his nostrils with her scent, the smell of warm, willing woman. Pulling his lips from hers he buried his face in her hair and struggled to control his desire.
"So sweet, so soft," he whispered. "Do you know how I want you?"
How he longed to strip her of her clothing. The urge to lay her in the fragrant grass and drown in her velvet warmth beat like a drum in his blood.
Her hands clutched his shoulders, her fingers kneading his flesh as she pressed herself against him. Her lips sought his. She whimpered when he pulled back.
"Slow and easy, Kitten."