First Kiss Friday – To Take This Lord by Cheryl Bolen
Today's First Kiss Friday featured guest is Cheryl Bolen, author of regency romance To Take This Lord, Brides of Bath, Book 4 (formerly titled An Improper Proposal).  Welcome Cheryl!  Here's the first kiss between Sally Spencer and George Pembroke, the Viscount Sedgewick.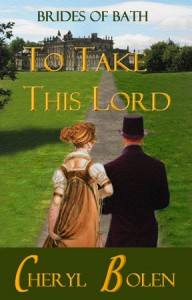 He covered her hand. "My daughter never told me until today that each time she saw a star, she made a wish on it. Do you know what she wished for?"
Sally looked up at him with a puzzled expression on her face. "What?"
"She wished she had you for her mother."
He watched Sally and was utterly touched to see her eyes moisten and a single tear roll down her tawny cheek. He stopped under the street lantern and gazed into her solemn face. She had never been lovelier. He gently brushed the tear away. Then he did a most peculiar thing. He lowered his face to hers and settled his lips on hers.
He would have wagered she had never been kissed before, but in no way did her kiss feel like that of a befuddled first kiss. Her lips were soft and pliant, and she melted into his chest as if she were long familiar with such intimacy.
Good lord! What was he doing? He snapped away from her. "Forgive me," he said in a shaky voice. "I don't know what came over me. The tear . . . it was so pure . . . such a betrayal of affection for those I hold most dear."
She placed a steady hand on each of his shoulders. "As dear as I hold them."
*****
If you would like to subscribe to First Kiss Friday and stay up to date on all of the latest First Kiss Friday excerpts, please enter your email address below: