Love Historical's Valentine's Day Hop and Giveaway
What better way to spend Valentine's then with the LH authors? 🙂 I am honored to be part of this hop with the other Love Historicals authors.
I will be giving away a signed copy of my medieval novel, The Angel and The Prince, to one lucky commenter.  Don't forget to leave your email so I can contact you!
Today, I'm going to tell you about the most romantic scene in my medieval novel, Angel's Assassin.  For me, the most romantic scene is when Damien realizes that Aurora is the only one he wants, the only one who can save him.  They are alone in the forest just after being attacked by an assassin.  Damien had been poisoned and a man had saved him.  By the way, the hero in my novel is named Damien.  Here's the scene – let me know what you think.  And don't forget to leave a comment with your email for your chance to win a signed copy of The Angel and The Prince.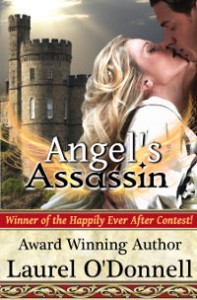 Her eyes fluttered and opened. Damien stared down into her sleepy blue eyes. They held all the redemption his black heart longed for. His worries about Gawyn, about his freedom, and about his mission faded beneath the radiance in her orbs.
She was safe. And right now that was all that mattered.
He knelt beside her.
She moved to sit up, but he caught her cheek in his palm, stilling the movement.
For a moment, there was hesitancy in her eyes, wariness. Then, she closed her eyes and pressed her cheek against his hand, nuzzling it.
He was lost in those lips, in the feel of her warm skin against his palm and he wondered what it might be like to wake up with such a beauty in his arms every morning. He shook himself firmly of such thoughts, a dark scowl sweeping over his brow. Those thoughts were madness. He needed focus.
"There was a man," Aurora said. "He stopped the poison." She glanced around the clearing. "Is he still here?"
Damien shook his head. "He is gone."
"Who was he?"
Damien did not answer.
"Did you see him?"
"There was no one here when I woke," Damien told her.
"We must find him…"
Damien held up his hand, silencing her. He looked at her for a long moment. "Why didn't you run?"
Aurora scanned his face in a silent caress. "I could not leave you."
Damien growled low in his throat. She put herself in danger because of him, to save him. He was not worth saving. He could never hold even the tiniest of sparks to her radiance, to her goodness. And still, she stared at him with such wonder and kindness and relief. He could not resist her. Not a moment longer. He curved a hand at the nape of her neck and pulled her to him, fiercely claiming her lips, wanting… needing to touch her. He pressed his hot lips against hers, sliding over her wet coolness. God's blood, even now, half poisoned and recovering his strength, he grew hard for her.
A whimper escaped her lips and Damien wasn't sure whether it was desire or protest. He loosened his grip on her, not wanting to punish or hurt, only wanting to drink of her nectar, her kindness, to absorb some of it into his black soul. Maybe then… maybe then he would be worth saving.
She pulled back and there was a pout to her thoroughly kissed lips.
He saw the unease edging her eyes, the concern. He had frightened her, the one woman in the entire world he didn't want to scare. The look on her face saddened him and he looked away.
The words from the darkness of his dream came to him. She will see you for the ugliness you have in your soul one day and she will turn her back on you. Did she remember what he had done to the assassin? The violence? The blood? Had it tainted her?
He did not want her to look at him with fear, but he had known one day she would. One day she must. But not so early. Not so soon.
Aurora climbed to her feet.
"Where is my sword?" Damien demanded, searching the forest floor. He could not look at her.
"Here." It had been hidden beneath the flare of her dress when she was lying down.
Damien nodded in satisfaction. He picked it up, pausing as he looked into her eyes. They sparkled a pale blue in the moonlight.
Aurora stared at him for a long, pensive moment. Then, she dipped her head in thought. The furrows of her brow deepened as her gaze stopped at his thigh, lingering on his wound. "How do you feel?" she asked.
"Well enough to see you back to your castle." He sheathed his weapon and took a step toward Acquitaine.
"Damien," she called.
He hesitated. He didn't want her to fear him. Would she condemn him now for his violence? The silence stretched. Finally, he turned to her and his breath caught in his throat.
She stood in middle of the forest, bathed in a pool of moonlight. Her blonde hair, loose from any constraints, fell to her waist in thick waves. Her back was straight, her tiny body alluring and curvy and delectable. But it was her eyes that captured his attention. He saw no fear in her eyes. It was concern. Had he mistaken fear for concern?
Damien had never felt such an overwhelming need for anything in his life. He trembled with his want of her.
A swirl of emotions played over her face. Concern, regret, helplessness.
It took all Damien's willpower not to go to her and sweep her into his embrace. He didn't want to scare her. He didn't want to harm her. He didn't want to taint her.
"I will never leave you," she finally confessed and tears entered her eyes.
Damien came toward her then, like a tumultuous storm cloud. "You don't know what you are saying," he warned in a savage whisper.
Aurora did not run for cover; she did not shrink from his approach. She stared up into his face with those damned clear orbs. And for the briefest of moments, Damien saw himself reflected as she saw him. A hero, a good man. A man worthy of all he could attain.
Now, head to another Love Historicals author's website by clicking the link below and gather their hero!  Return to the Love Historicals site and enter the names in the Rafflecopter for your chance to win the $100 Amazon Gift Card!  Good luck!
Powered by Linky Tools
Click here to view the other Love Historicals authors participating in the Valentine's Day Hop.