Medieval Monday! A Knight With Grace!
Thank you for spending these past weeks reading the excerpt from A Knight With Grace! Stay tuned for more Medieval Monday where we feature excerpts from some of the most exciting medieval romance novels!  Until then, here's another quick excerpt from A Knight with Grace!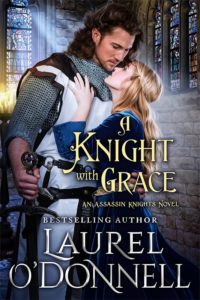 Excerpt –
As Emily slept beside her, Grace stared at the moon through the shutters in her room. She was having difficulty falling asleep. Could she have been so wrong? Had her prayers been answered all along in William? He was honorable, noble, and so very handsome. His blue eyes weakened her knees. His kiss sent her world spinning, made her entire body come to life. She had to admit that she was falling in love with him.
Could the story of him murdering the archbishop be wrong? King Henry had not punished him, nor taken any of his lands away, so perhaps what William said was true. That the king had ordered the archbishop's killing. Or was she wrong and she was justifying what he did because she was starting to have feelings for him?
She turned over onto her back with a sigh. This line of thinking certainly wasn't going to get her any sleep. She saw a shadow move in her room. At first, she thought it was Anna, the servant that had been assigned to her. She glanced at Emily. But Emily hadn't moved. Grace sat up, trying to see into the room. Perhaps she had imagined it.
"Emily?" Grace whispered and reached out to shake her. Her fingers touched something wet. Confused, she stared at it for a moment. Then a shadow rose to life beside her, separating from the rest.
Instinctively, Grace pulled away from it. She slipped over the wetness near Emily and they both slid from the bed into a pile on the floor. Grace turned over in time to see the shadow on the bed. "Run, Emily!"
Someone was in her room! She was certain this time. She turned onto her hands and knees and crawled toward the door, calling, "William!" She managed to get her feet beneath her, but they caught in her nightdress and she fell onto her knee. She heard a whoosh over head. She tumbled forward and fell onto her back as the shadow flew over her head. The moonlight glinted on a metal blade whizzing past her.
She screamed.
Buy A Knight with Grace here –
http://a.co/0skCxTn