Medieval Monday! Besieged and Betrothed by Jenni Fletcher!
It's Medieval Monday! We are featuring author's choice this time around. Please follow along with the excerpt each week for your chance to win prizes and read exciting romances.
For this week, please help me welcome Jenni Fletcher! The continuing excerpt is from her novel, Besieged and Betrothed.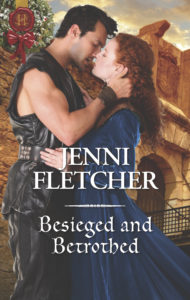 Excerpt –
'Does it have personal value?' He reached for the blade instead, weighing it in one hand as he waited for his blood to cool again.
'The dagger? No, it's just a—' She stopped mid-sentence, gaping in shock as he tossed it over the ramparts.
'Now take off your headdress.' He curled his fingers to stop himself from doing it. The urge to touch her seemed to be getting stronger every moment. 'You need to signal your surrender.'
She nodded and took it off at once, waving the material like a flag at the soldiers below.
What her novel is about –
Ruthless warrior Lothar the Frank has laid siege to Castle Haword, but there's a fiery redhead in his way—and she's not backing down!
More tomboy than trembling maiden, Lady Juliana Danville would rather die than lose the castle. When she's caught on opposite sides of a war, a marriage bargain is brokered to bring peace. But is blissful married life possible when Juliana has a dangerous secret hidden within the castle walls?
Buy Links:
http://bit.ly/2yZxh8T   Barnes & Noble
http://amzn.to/2uNq4CW  Amazon US
http://amzn.to/2sM1FfV    Amazon UK
http://apple.co/2jinIY9  iTunes
Don't forget to leave a review!