Medieval Monday! Continuing Along with Beleaguered
Continuing along with Beleaguered by the talented Jenna Jaxon!
Forgot what the story was about?  Here's the blurb –
When death holds sway in the world, can even the greatest love survive?
Finally in France, Alyse and Thomas's passion for one another continues to smolder hot and deep—until one fateful encounter changes everything.
During a formal banquet, Alyse must share an intimate dance her first love. His searing touch proves Alyse's desire for him is as strong as when they first met. Tormented by this revelation, Alyse is bitterly torn between the love of her life and her love for her husband.
Into this agonizing situation, the disaster of the Black Death rears its head. Alyse, Thomas and Geoffrey must try to save the princess from the ravening disease but at a dire cost to themselves. With her world plunged into chaos, Alyse struggles with her feelings for both of the men she loves. But which love will survive?
***
Continuing from last week –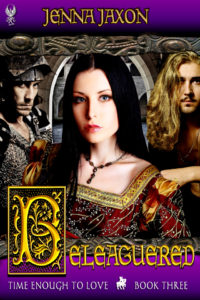 "If this odious man will take you to wife, he will take you as you are, with no land, no money, and in the clothes in which you stand."
"Done." Geoffrey spared not a glance for Alyse's father. He couldn't take his eyes off Alyse, now his forever. "I will take her to wife as she stands. She need bring nothing more than all that she is here and now. I have lands and estates in England and will inherit the earldom at my father's death. Mayhap I already have." He glanced at Etienne. "I have no need of anything else save Alyse."
Next week I'm at Barbara Bettis's blog. http://barbarabettis.blogspot.co.uk
Amazon Buy Link for Beleaguered: https://www.amazon.com/dp/B00LR5WDKC
Authors work hard to bring you these wonderful stories.  Please don't forget to leave a review!