Medieval Monday! Continuing Along With The Saxon Outlaw's Revenge
Continuing along with The Saxon Outlaw's Revenge by the brilliant Elisabeth Hobbes!
Forgot what the story was about?  Here's the blurb –
At the mercy of her enemy!
Abducted by Saxon outlaws, Constance Arnaud comes face to face with Aelric, a Saxon boy she once loved. He's now her enemy, but Constance must reach out to this rebel and persuade him to save her life as she once saved his…
Aelric is determined to seek vengeance on the Normans who destroyed his family. Believing Constance deserted him, he can never trust her again. Yet, as they are thrown together and their longing for each other reignites, will Aelric discover that love is stronger than revenge?
***
Continuing from last week –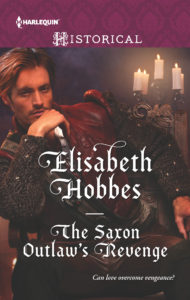 'Why should I do that?' Robert demanded incredulously.
'He's so young,' she said softly.
'Should I wait until he's older? I'm sure we can find a gaol for him until he's managed to grow hair on his chest,' Robert scoffed.
Aelric looked up and his eyes met Constance's. The sick feeling returned.
'He helped me once,' Constance said, aware of the heat rising to her cheeks. 'When my horse lost a shoe last winter.'
It had been a cold January day. Her horse slipped in the mud as she rode along the gritstone ridge. The half-familiar boy working in the fields under guard had left his position to take hold of the bridle. Speaking calm, unfamiliar words—to the animal or her she wasn't sure—he'd held the animal still while she remounted. She'd thanked him, nervously trying out the Saxon tongue. He'd grinned at her attempt, but kindly, before returning to his companions. They had looked at her with the contempt she'd come to expect, but he glanced back and nodded before walking away.
She told her brother-in-law only part of that. Not that they had met again. Times met and deeds done that she must not think of for fear Robert would read the emotions on her face.
'And because of that I should pardon his attempt to murder me today?' Robert asked.
Will Robert's heart be swayed? To be continued next Monday on http://barbarabettis.blogspot.co.uk
Buy links
Authors work hard to bring you these wonderful stories.  Please don't forget to leave a review!