Medieval Monday! Continuing Along With The Gentle Knight
Continuing along with The Gentle Knight by the fabulous Ashley York!
Forgot what the story was about?  Here's the blurb –
Brighit MacNaughton is an obedient daughter following her father's death bed decree that she take her vows and become the virginal bride of Christ. The hired men seeing her to the Priory at Tanshelf are more interested in the building resentment against the English king than her safety. But when the handsome Norman knight offers his protection against the lecherous mercenaries, he sparks her passion with his gentle touch and smoldering looks of desire, reminding her of dreams best forgotten. Can one night with him quench the intense need in her or will it cause the fire to burn out of control?
Peter of Normandy is a trusted knight of King William, sent north to subdue the unrest and rumblings of revolt at York. Giving aid to an Irish princess more noble than many knights, he is quickly overcome with the need to possess her. With a body meant for a man's pleasure and an unrelenting stubbornness to follow her father's wishes, he struggles against giving her what she wants if it can only be for one night. Will one night of passion prove to be enough or will it unleash an insatiable need that makes him never want to let her go?
***
Continuing from last week –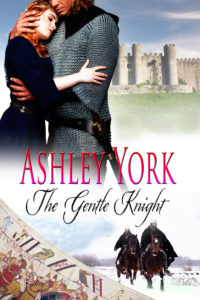 "My thanks," Peter said.
Mort smiled, no doubt pleased by the deference being shown Peter. The man had probably informed the couple of the honor they were being paid by the presence of one of the King's own favored knights.
After properly serving the knight, the couple brought in the victuals for the other table.
Peter removed the knife and cut the meat. He pierced a small, juicy piece and offered it to Brighit.
Follow along with excerpt #1 next week at Barbara Betti's blog http://barbarabettis.blogspot.com/
BUY LINKS:   Amazon
Authors work hard to bring you these wonderful stories.  Please don't forget to leave a review!