Medieval Monday! Continuing Along With Dragon Knight's Shield
Continuing along with Dragon Knight's Shield by the wonderful Mary Morgan!
Forgot what the story was about?  Here's the blurb –
Angus MacKay, leader of the Dragon Knights, failed his brothers and his clan upon the death of his sister. Now he must fight the darkness of despair tempting his soul. Back on Scottish soil, he comes face to face with Deirdre who can wield a sword as mightily as his warriors, and takes her captive. Yet, with each passing day, the fire dragon inside him roars to claim the one woman fate has destined for him.
Famed mystery writer, Deirdre Flanagan, is unprepared for the next chapter in her life. On a vacation to Scotland, she steps through the mists and enters into a skirmish alongside a Highlander. However, the fight has only begun, and now she must battle Angus as well as evil in order to claim the love of this Dragon Knight.
Will their love be powerful enough to shield them from danger, or burn them to ashes?
***
Continuing from last week –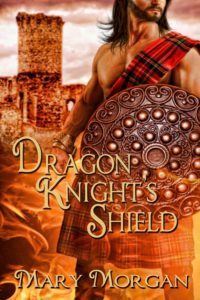 Howling in pain, he cried out, "Kill Angus first." Raising his blade, Lachlan made ready to plunge the steel into Deirdre.
"Nae!" roared Angus. Reaching for his shield, he stood and opened the power of the fire dragon. "From the land of the Ancients. From the stars of the Fae, I, Angus Drustan MacKay, Dragon Knight of the Order—keeper of the fire dragon, open the gate and call forth the beast!" The power exploded within his body, scorching a path down his arm and out of his shield.
Follow along next week by checking out Barbara Bettis' blog with my excerpt #12 http://barbarabettis.blogspot.com/
BUY LINKS: 
Amazon    Barnes Noble    Kobo    Apple iBooks
Authors work hard to bring you these wonderful stories.  Please don't forget to leave a review!