Medieval Monday! Continuing Along With The Lady of the Forest
Continuing along with The Lady of the Forest by the talented Barbara Bettis!
Forgot what the story was about?  Here's the blurb –
He must pursue his enemy; she must protect her people. Can their love survive the duties that drive them apart?
When her elderly husband dies, Lady Katherine fakes her own death and disappears into the forest with others escaping the brutish new lord. Determined to protect her people, she knocks the wrong man senseless. But Lord Henry isn't an enemy, he's the brother of her childhood friend. Although his tender confidence tempts her, she's bound by duty.
Henry of Chauvere has found the one lady he wants for his own, never mind she's tied him hand and foot. When he learns the king has ordered her to wed Stonehill's ruthless new master, he insists Kate seek haven with his sister. But she won't desert her friends. Henry vows to solve her problem, provided he catches a traitor before the threat from Kate's past catches her.
When a daring rescue compels Henry and Kate to join forces, their attraction grows into love. If only duty didn't drive them apart.
***
Continuing from last week –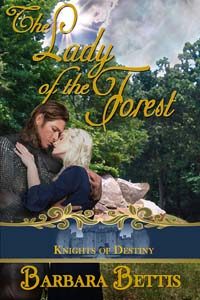 Sir Mortimer pulled the sword away from Kate to point it at Henry. "Shut up. I'll—"
From the edge of his vision, Henry saw Kate dip her fingers beneath her neckline. Before he realized what she intended, she'd slipped out a small dagger and planted it in Mortimer's thigh.
Mortimer howled and whipped his hand down, still clutching the sword.   It bit into Kate's arm.She gasped and fell, tearing herself from his grip.
Henry leaped forward. Mortimer ripped the dagger from his leg and advanced.
Intent on reaching Henry, he didn't mark Bernard, who leaped onto the dais. In two great strides, Bernard drove his sword into Mortimer's belly.
Next week, we'll wrap up the action at my blog: http://barbarabettis.blogspot.com
Authors work hard to bring you these wonderful stories.  Please don't forget to leave a review!