Medieval Monday! Continuing the Journey with Lindsey
Continuing along with Lindsey by the brilliant Lane McFarland!
Forgot what the story was about?  Here's the blurb –
The Daughters of Alastair MacDougall Series
Set in late thirteenth century Scotland, this series tells the stories of Laird Alastair MacDougall's four independent and oftentimes, headstrong daughters coming of age in a country fraught with war and feuds amongst rival clans. Follow his daughters as their lives become intertwined with four fierce, rebel highland warriors bent on eradicating the English soldiers from their homeland.
Lindsey
Who said life was fair? Certainly not Lindsey MacDougall. She rebels at a world dominated by men. Dressed in lad's clothing, she manages her father's stables, caring for, breeding and selling horses. Unwavering on performing her duty to the rebellion, Lindsey throws caution to the wind and secretly delivers missives behind enemy lines to the Scottish warriors.
Logan Ross uses his happy-go-lucky smile to warm the hearts of many willing lasses, but it also masks his pain—the pain of his birth. As a bastard son, he is unacceptable for any Laird's daughter, including the spirited Lindsey MacDougall. However, she haunts his dreams. Determined to prove his worth, he throws himself into the middle of the rebellion, leading men into mortal danger.
After helping Logan escape from a brutal English dungeon, Lindsey fights her traitorous attraction to the virile highland warrior, vowing never to lose her heart to any man.
***
Continuing from last week –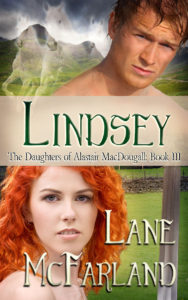 He snatched it from her fingers and rummaged through the contents, extracted clay jars and strips of cloth, then tossed them onto the crate. He'd not find any weapons; she'd concealed a single blade against her thigh.
"Careful!" Her head tilted toward the woven container. "Them salves is all I got to patch up the prisoners afore their trip."
The man shoved the basket at her and grabbed a thick key ring off a rusty peg in the wall. He glanced over his shoulder at the gaming soldiers and barked, "Don't start without me. I aim to win back my coin."
The men laughed and returned to their sport, no longer concerned with Lindsey's presence.
Follow along next week by checking out Barbara Bettis's blog with excerpt #6 http://barbarabettis.blogspot.com/
Authors work hard to bring you these wonderful stories.  Please don't forget to leave a review!