Medieval Monday! Continuing the Journey with Knight Errant
Continuing along with Knight Errant by the marvelous Rue Allyn!
Forgot what the story was about?  Here's the blurb –
If Sir Robert Clarwyn can't find a way to compel Lady Juliana Verault to return to England, he'll lose any chance of regaining his family lands and redeeming his heritage. Yet Juliana must complete her mission to improve her gender's future in the church. With danger and intrigue mounting, Robert and Juliana must rely on each other and risk everything … including their hearts.
***
Continuing from last week –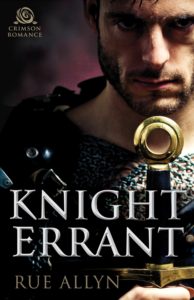 The small man gave her an elegant bow. "Sorella Juliana, how pleasant to see you again."
By the time he straightened, she had her smile in place and her hands linked before her. The dagger hilt rested unseen within her cupped palms with the blade resting along her inner arm.
"Antonio, search the room. I'm certain we will find evidence of her Beguine heresies." Basti never broke eye contact with her the entire time. She couldn't hold back one small shiver.
The man did as ordered.
It wouldn't take long, she knew, before the oiled packets containing Angelina's letters sewn into the lining of her cloak were discovered.
The sound of rending cloth proved Antonio's efficiency. "Here, Fratello."
"Excellent." Basti took the letters. "Wait for us outside."
The man backed out into the hallway.
Add a comment and let me know what you think. Follow along next week by checking out Barbara Bettis's blog for excerpt # 7  http://barbarabettis.blogspot.com
BUY LINKS:  Amazon   B & N   iTunes   Crimson Romance
Authors work hard to bring you these wonderful stories.  Please don't forget to leave a review!