Medieval Monday! Daughter of the Overking by Ashley York!
Today, I'm featuring the amazing Ashley York and her novel Daughter of the Overking.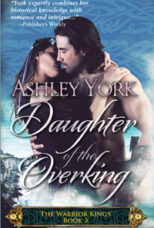 What's it about?
A mistaken identity. A gruesome murder. The uniting of two powerful clans.
Trained as a warrior…
Brighit of Clonascra is the only daughter of the fearsome overking, Sean, but despises the trappings and demands of womanhood. She's far more comfortable training for battle than preparing a meal. Long held alliances require she set aside selfish dreams and take Darragh as her husband. The union intended to promote peace between the clans is interrupted by the shocking murder of a neighboring king and she quickly discovers there are far worse things than being wed.
Trained to be king…
Darragh of Drogheda has no wish to follow in the path of his father, Tadhg, but he is an obedient son and supports his father's plans. His marriage to Brighit, however, will be no hardship at all since he finds her most intriguing especially when she fights him at every turn. A she-warrior indeed. Her persistent dismissal of him merely blows the fire aflame and sets him down the path to discovery of all her most tightly held secrets.
When she stands accused of the murder, can they finally come to an agreement that will give them each what they truly desire?
Buy Daughter of the Overking here –
Here's the continuing excerpt from Daughter of the Overking –
That flash of a smile disappeared just as quickly, replaced by dread when Thomasina took her by the
shoulders to again turn her away. This time the ladies surrounded her in an impenetrable shield and moved ahead
of the crowd toward the castle. The look of irritation Darragh gave the priest had the older man raising his hands
and backing away in a show of surrender.
Darragh proceeded with the crowd of well-wishers, keeping his eye on the women ahead. When they reached
the great hall decorated for the festivities with leaves and wild flowers, he watched helplessly as the women
continued up the stairs at the far wall that led to the chambers above.
The ridiculousness of the situation grated on him, as did the ever-growing number of people Darragh did not
recognize, all offering best wishes and slaps on the back for a job well done. Job well done? He'd not even been
able to speak to Brighit, let alone see any job done.
Follow along next week with snippet #4 when I visit Award winning author Mary Morgan's tavern.
And don't forget that I'm on Ashley's blog today! Drop by and leave a comment! https://www.ashleyyorkauthor.com/blog/